From ABS-CBN (Aug 10, 2019):
Manaoag church under tight watch; military memo cites terror threat in N. Luzon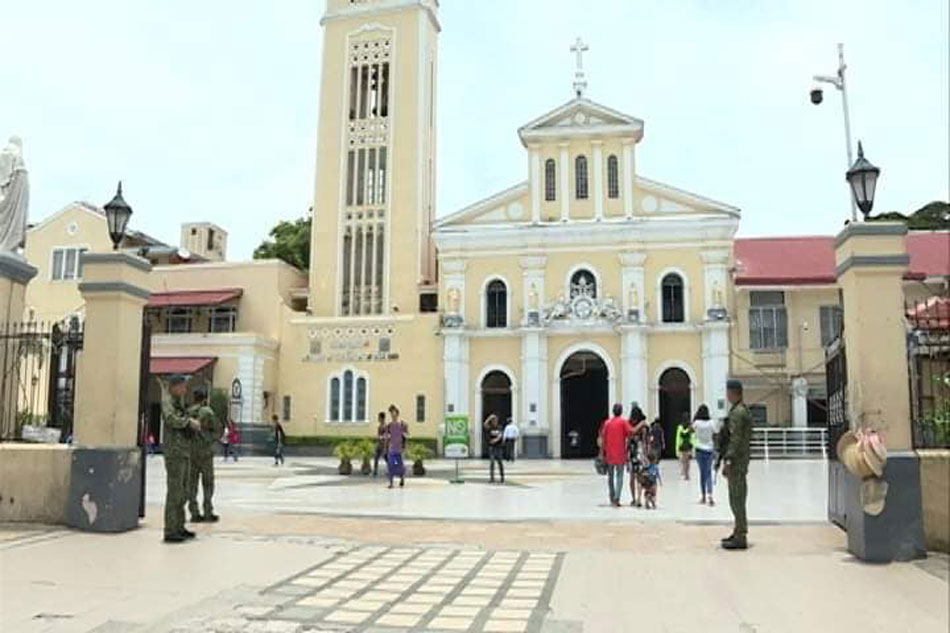 Security forces guard the Manaoag church in Pangasinan following a reported terror threat in several places in Northern Luzon. ABS-CBN News

MANILA—The Manaoag church in Pangasinan is under tight security amid an alleged Islamic State-linked terror threat on cities and places of worship in Northern Luzon, with the military expected to raise the red alert status starting Sunday.

An intelligence memo dated August 2 obtained by ABS-CBN News cited a "possible terror attack" in several areas under the Armed Forces of the Philippines' Northern Luzon Command (Nolcom).

The memo was issued just days before President Rodrigo Duterte spoke of his fear of ISIS attacks, saying he was praying that the country would be spared from the "brutality and cruelty" that innocents have been suffering in Iraq and Syria.
Duterte prays: Spare us from ISIS
The Nolcom memo said information showed that "a "crusader city" with business centers and "crusader churches" in Northern Luzon [are] being targeted for terror attack."
"Crusader cities is the term used by ISIS in describing target areas to fuel what they call 'Bandar Crusade,' or war between Muslim and Christian. While 'Crusader Churches' is their generic term for all historic Catholic Churches," read the memo signed by Navy Col. Glenn Celebrado, Nolcom's assistant chief of Unified Command Staff for Intelligence.
Nolcom identified Laoag City in Ilocos Norte, Vigan City in Ilocos Sur, Tuguegarao City in Cagayan and the Manaoag church in Pangasinan as possible targets, saying "the definition fits but [is] not limited to" these places.
The Minor Basilica of Our Lady of the Most Holy Rosary of Manaoag is a popular pilgrimage site, while Laoag and Vigan are home to historic landmarks, including major churches, that draw both local and foreign tourists.
Tuguegarao is home to an 18th-century Baroque church and is a gateway to Cagayan Valley's other adventure destinations.
The Nolcom ordered several military units, including 3 joint task forces, to "heighten intelligence monitoring" and place the areas as "high priority targets."
It also ordered the issuance of a directive for a red alert status on August 11 and 12, Sunday and Monday.
The terror alert came nearly 7 months since the suicide attack at the Jolo Cathedral on Jan. 27. The twin blasts, carried out by Indonesian suicide bombers with the aid of the Abu Sayyaf Group, left 22 people dead, including state troops, and more than a hundred hurt.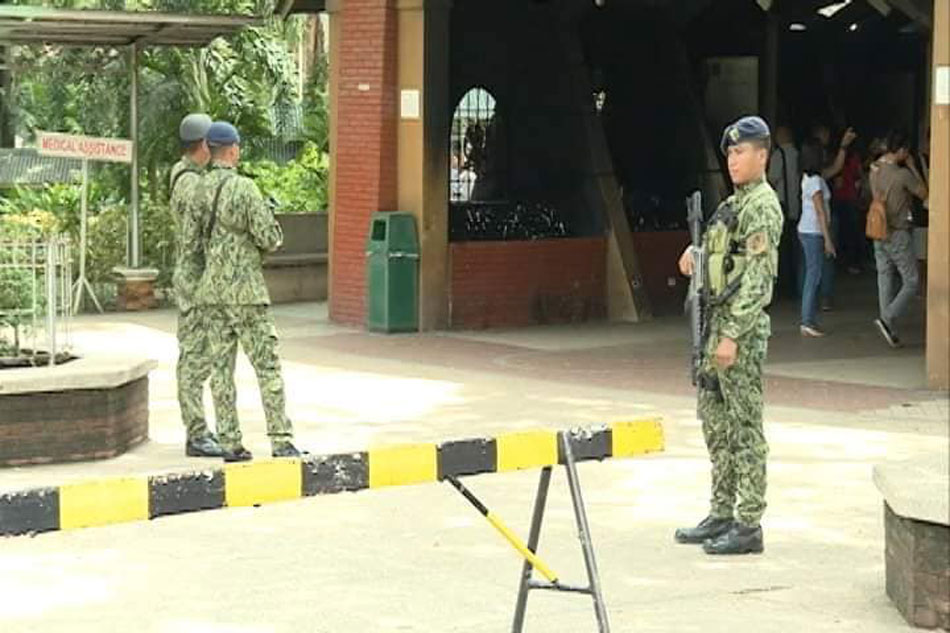 Security forces guard the Manaoag church in Pangasinan following a reported terror threat in several places in Northern Luzon. ABS-CBN News

The memo, which has been leaked, has sown fear among residents.

In Manaoag, Fr. Anthony Eudela said there has been no bomb threat but additional security forces were deployed to guard the church.

The Philippine National Police (PNP) said additional officers were deployed in and around the church, along with soldiers and police dogs.

"Wala tayong bomb threat... pero may dagdag tayong security, andiyan ang sundalo, PNP at K-9... Finifilter natin 'yung gates... Ang dami nating gates," he said in an interview. (We don't have a bomb threat... but we have additional security, there's the military, Philippine National Police, K-9 [dogs].)

Visitor Belle Koizumi found it "nakakailang (awkward)" to have such level of security at a church, but Reynaldo Rosaupan said he felt more secure that security forces were present.

The reported threat has prompted some businesses to close shop, while for others, business has been slow.

"Matumal ngayon, walang benta dahil takot sila. Maganda 'yung maraming pulis," said vendor Romy Dizon. (Business is slow, we don't have sales because people are scared. It's good that there are many police officers here.)

At the change of command of the Philippine Army's 702nd Infantry Brigade in Manaoag town earlier this week, newly installed commander Col. Audrey Pasia said his forces are "ready with or without a threat."

In Ilocos Norte, the police and the Church called for calm and vigilance following the leak of the memo.

"Huwag masyadong mag-panic dahil mas maraming nake-create na chaos diyan," said Police Maj. Relly Layug, PNP Ilocos Norte public relations officer. (Don't panic because that creates more chaos.)

He said the province's police force is ready given security preparations set for places of convergence such as churches, markets and malls.

Layug said the police are coordinating with the Catholic Church amid the threat report.

He called on the public to immediately report to the nearest police station suspicious-looking persons or baggage.

Fr. Joey Ranjo, spokesperson for the Diocese of Laoag, said: "We have to be calm and discern what is fake or what is not. We have to trust the PNP and coordinate with them."

Resident Jun Gatiwan was confident of his safety, saying: "Magdasal na lang (Just pray)."