From the Philippine Star (May 10):
Maguindanao towns ask DILG to offer rewards for info on BIFF leaders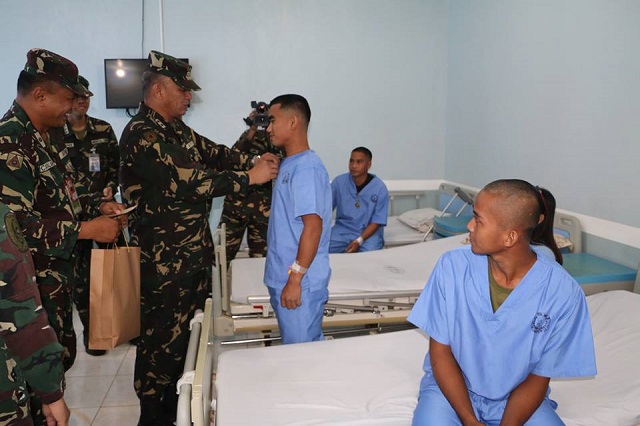 Maj. Gen. Arnel Dela Vega of the 6th Infantry Division pinned merit medals on Wednesday to soldiers wounded in recent clashes with fanatical extremists in Maguindanao. JOHN UNSON
Local officials want Malacañang to raise bounties for top leaders of all three factions in the Bangsamoro Islamic Freedom Fighters.
Members of the local peace and order councils in Maguindanao towns where the BIFF has a presence said Wednesday the central office of the Department of the Interior and Local Government can help hasten efforts to neutralize the BIFF by putting up rewards for the capture of its leaders.
"We understand it is the central office of the DILG and the Philippine National Police that works on that. We are hoping these two organizations can raise bounties for leaders of the BIFF,"
an elected municipal official said on Wednesday.
LGU officials detest the BIFF's interference on activities of duly-constituted barangay governments, particularly in the enforcement of community justice programs.
The BIFF enforces a ruthless Taliban-style justice system in areas where it operates, something residents find obsolete and barbaric.
President Rodrigo Duterte last month announced a bounty of P1 million each for information leading to the arrest of Abu Sayyaf members who were part of a group that security forces clashed with in a town in Bohol province in early April. Three Bohol residents have since been rewarded for information given to authorities.
More bombings anticipated
Security officials are expecting more bombings by the outlawed BIFF to avenge its losses in encounters with soldiers in the past five days.
Senior Supt. Agustin Tello, director of the Maguindanao provincial police, said their municipal police offices in the second district of the province are now guarding public markets and terminals to thwart bombings by the group.
Four policemen were hurt in a roadside bombing Tuesday in Maguindanao's Mamasapano town, the 14th in the province in just three weeks.
Local officials in Maguindanao's Datu Salibo, Datu Piang, Datu Saudi and Shariff Saidona towns warned reporters Wednesday
that followers of

Ismael Abubakar, leader of one of three factions in the BIFF

, are likely to target public conveyances to counter assertions by the military that they have been weakened by recent government offensives.
Abubakar, alias 'Bongos'
A cleric, Abubakar, also known as "Bongos," is inciting Muslims to persecute non-Muslims. He and his men boast of loyalty to the Islamic State of Iraq and Syria.
Abubakar and his followers conveniently targets innocent people to retaliate for the deaths of companions killed in encounters with the military.
Army Capt. Arvin Encinas, public affairs chief of the 6th Infantry Division, said
Abubakar and the bomb makers in his group are the targets of the continuing military operations in Datu Salibo and nearby towns that started on Saturday.
Abubakar and his followers were tagged as being behind more than 20 roadside bombings in central Mindanao in recent months.
The latest of these roadside bombings was last Tuesday in Mamasapano town that injured SPO2 Mohammad Ampatuan, PO3 Ali Malok, PO3 Harim Ampatuan and PO1 Norodin Olympain.
Wounded soldiers get medals
Major Gen. Arnel Dela Vega, commander of 6th ID, on Wednesday awarded with merit medals the seven soldiers wounded in attacks by BIFF in Salibo town over the weekend.
The soldiers are now undergoing medication at the military's Camp Siongco Hospital in Datu Odin Sinsuat town in Maguindanao.
Dela Vega said he is grateful to the local government units helping in the police and military's joint pacification campaigns in towns where there BIFF lairs.