From the Philippine Star (Aug 9):
US summons Philippine envoy over Duterte's remarks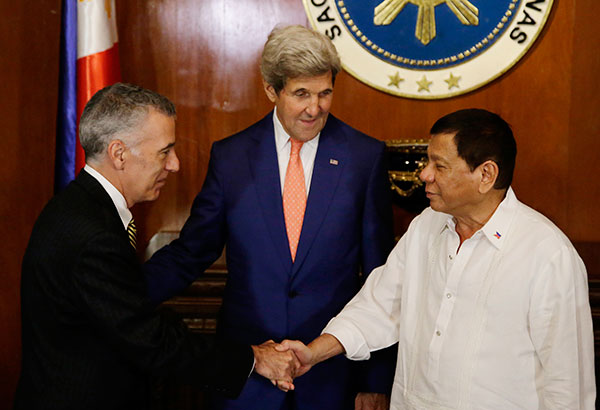 Philippine President Rodrigo Duterte, right, greets U.S. Ambassador to the Philippines Philip S. Goldberg, left, as Secretary of State John Kerry looks on during his visit at the Malacanang presidential palace in Manila, Philippines on Wednesday, July 27, 2016. AP Photo/Aaron Favila, Pool
The US State Department summoned Philippine embassy Charge d'Affaires Patrick Chuasoto on Monday to seek clarification of what it said were "inappropriate remarks" made by President Duterte against US Ambassador Philip Goldberg.
Elizabeth Trudeau, director of the State Department press office, said Chuasoto was called in for an explanation of Duterte's remarks but declined to give further details.
Duterte has openly called Goldberg "gay" and "a son of a bitch."
Duterte's dislike for Goldberg dates back to the campaign period when the diplomat called him out for making a joke about the rape and murder of an Australian missionary during a 1989 Davao City prison riot.
At a news conference, Trudeau said the State Department was concerned about the extrajudicial killings of suspected drug dealers urged the Duterte administration to ensure law enforcement efforts do not violate human rights.
She said US officials were in discussions with Filipino authorities to emphasize the importance of the rule of law, a fundamental democratic principle.
"We strongly urge the Philippines to ensure its law enforcement efforts comply with its human rights obligations," she said.
In reply to a query, she said a $32-million assistance package announced by Secretary of State John Kerry during a recent visit to Manila to support the Duterte administration's intensified law enforcement efforts was meant to promote human rights through training as well as promote professionalism, due process and rule of law. The money should not be used in activities involving extrajudicial killings, she said.
http://www.philstar.com/headlines/2016/08/10/1611969/us-summons-philippine-envoy-over-dutertes-remarks