From Rappler (Nov 28):
INFOGRAPHIC: Food security in ARMM's poorest provinces
Many residents of Lanao del Sur, Maguindanao, and Sulu are not eating enough because of reasons like lack of money, conflict, and weather disturbances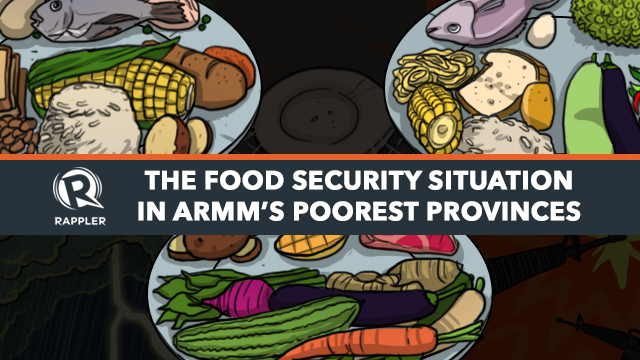 WHAT IS ON THE TABLE. Lanao del Sur, Maguindanao, and Sulu in ARMM are among the poorest provinces in the Philippines. Graphic by Nico Villarete
The Autonomous Region in Muslim Mindanao (ARMM) was put under the spotlight in 2015 for two reasons: the deadly Mamasapano incident and the Bangsamoro Basic Law (BBL).
These issues have given birth to various debates – both online and on the ground, spanning months – and may even compromise some pending legislation in Congress.
Beyond Senate and congressional inquiries, the ARMM stands out as being among the poorest regions in the Philippines.
Figures from the Philippine Statistics Authority show a significant increase in the percentage of people living under the poverty threshold in the region.
| | | | |
| --- | --- | --- | --- |
| REGION | 2006 | 2009 | 2012 |
| Maguindanao | 28.2% | 28.8% | 32.1% |
The grim situation is the same when it comes to food security, according to the results of a survey by Laylo Research Strategies. (READ:
What causes food insecurity in the PH's poorest provinces?
)
The survey, sponsored by the World Food Programme, was conducted between August 16 to September 5 among 1,600 respondents in the top 16 poorest provinces in the country. It has an error margin of ±2.5% for the national and ±10% for each province.
Three of these provinces – Lanao del Sur, Maguindanao, and Sulu – are located in ARMM.
| | | | |
| --- | --- | --- | --- |
| PROVINCE | 2006 | 2009 | 2012 |
| Lanao del Sur | 51,408 | 68,770 | 100,946 |
| Maguindanao | 70,665 | 67,899 | 87,800 |
| Sulu | 39,478 | 42,530 | 51,278 |
As residents suffer from poverty, it is inevitable for them to also fall into the hunger trap.
Find out more about the food situation in ARMM's poorest provinces:
The other provinces covered by the survey include Apayao, Masbate, Negros Oriental, Eastern Samar, Northern Samar, Western Samar, Zamboange del Norte, Bukidnon, Camiguin, Lanao del Norte, North Cotabato, Saranggani, and Sultan Kudarat.
As a sign of its efforts to achieve development, the ARMM regional government distributed P20 million ($424,467)* worth of farming supplies to several farming organizations and municipalities during its 26th founding anniversary early this November.
Agriculture, after all, is one of the major livelihoods in the region and a huge source of food for most families.
As the region faces yet another critical year, given the approaching
2016 elections
, residents of the ARMM provinces can only hope that zero hunger and poverty alleviation will be part of the candidates' platforms.
*$1 = $46
http://www.rappler.com/move-ph/issues/hunger/114198-infographic-armm-poorest-provinces-food-security