From Rappler (Feb 22):
Army retakes North Cotabato villages from BIFF
'The next thing that we are going to do along with local officials is to work on for the return of affected civilians into their respective villages.'
Government security forces have taken full control of remote villages in North Cotabato that were occupied by breakaway Muslim rebels following a
ground and artillery offensive on Saturday
, February 21, a military official said Sunday, February 22.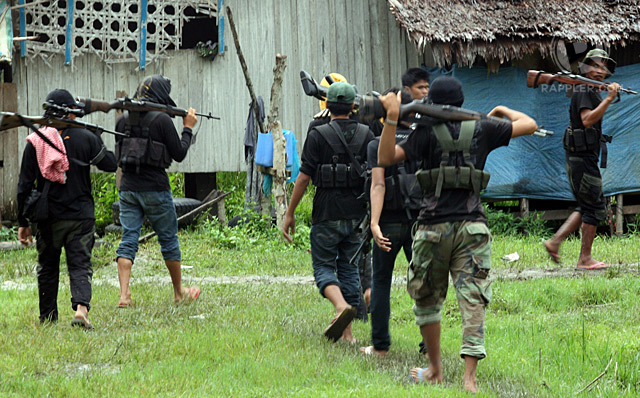 Army Captain Joan Petinglay, 6th Division spokesperson, said in a phone interview that members of Bangsamoro Islamic Freedom Fighters (BIFF), a breakaway of Moro Islamic Liberation Front (MILF), that were occupying
the villages of Kabasalan, Buliok and Barongis in Pikit town since February 13 have fled towards the marshy areas of Sultan sa Barongis in Maguindanao.
"The villages [are] already free of the rebels' presence. Our men also scoured and cleared the areas for possible improvised bombs left by the enemies," Petinglay said.
"We have stopped the operation. The next thing that we are going to do along with local officials is to work on for the return of affected civilians into their respective villages," she added.
Petinglay said the areas where the BIFF fled were marshy and it would be difficult for the troops to chase them.
Jack Abas, a commander of MILF in the area, told a local radio station they have recovered 7 homemade bombs in Pikit and another one in Pagalungan, Maguindanao left by withdrawing BIFF.
Zorahayda Taha, regional director of Department of Social Welfare and Development (DSWD), said the government provided relief assistance to around 20,000 individuals were affected by the conflict in Pikit.
The MILF earlier said the military coordinated their operation with them to prevent a repeat of the incident on January 25 in Mamasapano, Maguindanao where 44 police commandos died after an intense fighting with their forces under 105th base Command.
Petinglay said Saturday's offensive was meant to drive away BIFF presence that caused massive displacement of civilians in the towns of Pagalungan in Pikit.
"The police and military will not allow that these rebel groups will continue to create havoc and fear among the populace," she said.
"We will exert utmost effort to contain the fighting in specific areas so that it will not spill over and to ensure that order and security will be restored," she added.
She said as a result of their operation there were casualties on the enemy side and they are waiting for the official report of their ground commanders.
The skirmishes in Pikit North Cotabato and in nearby Pagalungan in Maguindanao that started February 13 has something to do with land dispute between Commander Gani Saligan of the BIFF and Jack Abas, head of the MILF.
The military said more than 250 BIFF rebels occupied their 3 villages, forcing civilians to evacuate to safer grounds. Datukon Ampuan, known as Commander Falcon of MILF, and 5 of his followers, were reportedly killed.
http://www.rappler.com/nation/84668-army-retakes-north-cotabato-villages-from-biff