From Rappler (Jan 31):
Mindanao on high alert for possible retaliatory attacks
The alert comes after the alleged killing
of Malaysian terrorist and bomb expert Zulkifli Bin Hir, also known as 'Marwan'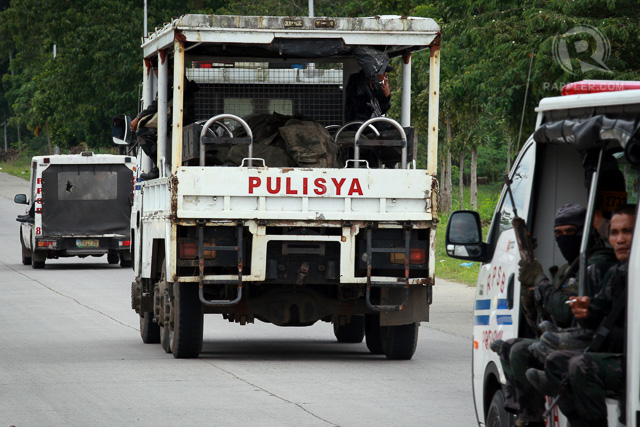 A police truck carrying the bodies of comrades passes the national highway during a retrieval operation on January 26, 2015 in Mamasapano, Maguindanao Province.
Government security forces put Mindanao on red alert for possible retaliatory attacks by militant sympathizers after America's most wanted man in Southeast Asia was killed by police commandos in an assault in Mamasapano, Maguindanao.
An intelligence report said a Jihadist group from Mindanao, Ghuraba – blamed in series of deadly attacks in the region – reportedly warned of retaliatory attacks after they confirmed the death of Malaysian terrorist Zulkifli Bin Hir.
The group reportedly coddled Marwan for months last year in Lanao del Sur before transferring to Maguindanao.
Army Captain Joan Petinglay, 6

th

Division spokesperson, said Saturday the military has inserted additional troops in Maguindanao, setting up more check points to prevent Zulkifli followers and allies from the Bangsamoro Islamic Freedom Fighters (BIFF) from launching bomb attacks.
Petinglay said around 80 men, believed to be all members of the BIFF, and on board motorcycles were spotted
along the Maguindanao-Cotabato national highway.
"Our moves were meant to contain the situation and for us to prevent armed men from launching attacks," she said.
In the province of Sultan Kudarat, troops were also alerted after
sightings of guerrillas in the mountains of Isulan, Esperanza and Tacurong City.
Senior Superintendent Junie Buenacosa, police commander of Tacurong, said this comes days after the intense fighting on January 25 that left 44 elite members of Philippine National Police-Special Action Force dead. Eleven others were wounded.
Police came to Mamasapano for a "law enforcement operation and killed Zulkifli, also known as Marwan, but they were attacked by the Moro Islamic Liberation Front's 105

th

Base Command as they were pulling out from the site.
Marwan, who has a $5-million dollar bounty offered by the US Federal Bureau of Investigation for his involvement in the 2002 Bali bombing In Indonesia that left 110 foreign nationals dead, was reportedly in the site of the encounter.
Superintendent Joefel Siason, the head of police in Isulan, said his town was placed on high alert after sightings of armed men believed to belong to the BIFF.
"Our place is close to Maguindanao and these people might sow terror. We strengthened our visibility," he said.
A faith-based network appealed for peaceful resolution of all conflicts amid the tragic encounter in Mamasapano.
In a statement, Philippine Misereor Partnership Inc (PMPI), a social development network of Church-based groups, people's organizations and non-governmental organizations, asked for "sobriety and to clear our heads from negative thoughts that this single incident forebodes of things to come and this will define the fate of BBL and our peace project in Mindanao."
The PMPI also called on "all parties to prevent further escalation of conflict and violence."
Aside from the statement, members of the network's executive committee shared their thoughts regarding the incident.
Fr Edwin Gariguez, one of the co-convenors and executive secretary of CBCP National Secretariat for Social Action, asked for a no-holds barred investigation of the incident and all-out justice for all the victims.
"Whoever perpetuated for this incident to happen, they must be accountable. The investigating committee should be composed of members coming from different sectors to ensure its impartiality. We must opt to deliver all-out justice for the victims and not [go for] an all-out war," said Gariguez.
On Friday night, Janaury 30, twin explosions hit the town of Datu Odin Sinsuat in Maguindanao and Dato Saudi Ampatuan, leaving one wounded.
http://www.rappler.com/nation/82506-mindanao-high-alert-retaliatory-attacks