From ABS-CBN (Jun 13):
Philippine Army chief proud of unit's current state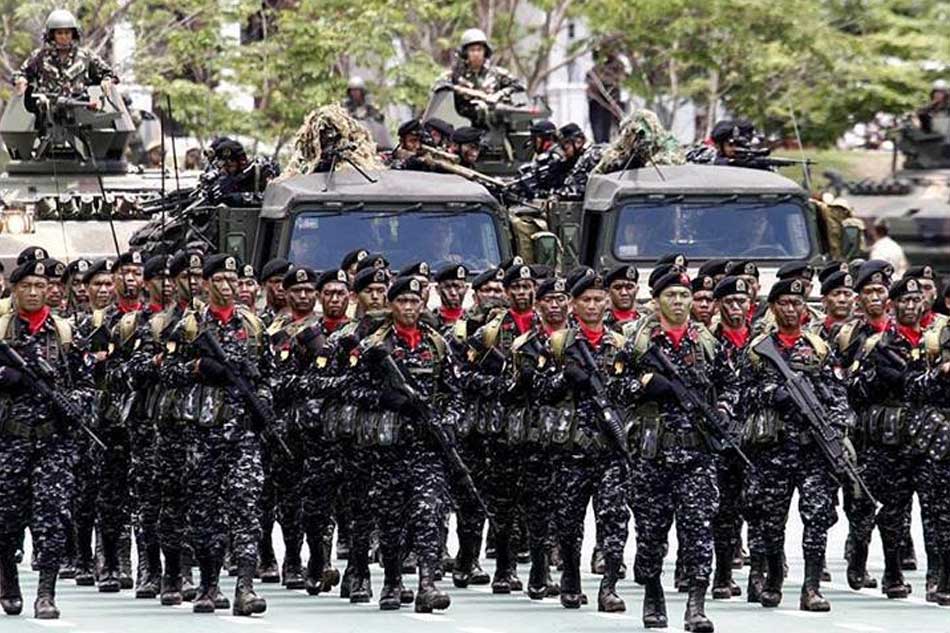 Philippine Army Scout Rangers. Photo courtesy of AFP Facebook page
While conceding that they would welcome any help that could improve the health and medical services of the Philippine Army, Lt. General Eduardo Año, the army commanding general, said that the current state of the army--whether in terms of medical services or combat power--is still something he is proud of, and is at par with its regional counterparts.
In one of his earlier statements, incoming president Rodrigo Duterte declared that he opted to sell the presidential ship, BRP Ang Pangulo, and use the proceeds to improve the medical needs of the soldiers. He also said he wanted to convert the use of the presidential choppers into medical and casualty evacuation assets, to put an end to wounded soldiers dying before they can be rescued.
Año said the army state of affairs is no longer as dire as some may think. He, however, said he appreciates the sentiments of the incoming commander-in-chief.
"Sa tingin ko, ine-emphasize lang ng ating incoming president yung kanyang concern sa welfare ng sundalo natin. Especially 'yung mga sundalo natin na nasa frontlines," Año said.
"I think hindi naman literally ganun yung ibig sabihin, ang ibig sabihin noon, let us find all the means to improve further the medical services of our people in order to lower the mentality rate of our soldiers."
Last year alone, 119 soldiers of the Philippine Army perished in battle, while more than 500 were wounded.
Año said there have been many acquisitions under the AFP Modernization Program that addresses these medical needs. For instance,
60 field ambulances have been delivered, and are now being used in the areas of conflict.
The first batches of remote controlled armored personnel carriers have also been delivered, with more to be delivered by the end of the year. Assets like these minimize the risk of injury and death of soldiers on the battlefield, because they provide protection to the troops about to enter the conflict areas, and the infrared capabilities allow them to detect enemy presence even in the dark, and even at a distance.
"Kung iko-compare natin 'yung ating army nung mga unang panahon, at saka ngayon, napakalaking kaibahan because of our modernization program, " said Ano. "At par tayo with our Southeast Asian brothers."
Earlier today, the Armed Forces and Police Savings and Loan Association Incorporated (AFPSLAI) donated a portable hematoma detection machine to the Philippine Army, a piece of equipment that soldiers themselves requested for.
"Ngayon malalaman nila kung anong klaseng emergency ang kinakaharap nila sa paggamit ng machine na ito. Maliit siya, mobile, so pwede mong dalhin sa frontline," said
retired Lt. General Virgilio Domingo, a former deputy chief of staff of the AFP, and now President and CEO of AFPSLAI.
"Sa unang aksidente, o kaya ay mga sugat sa ulo, malalaman mo ngayon kung anong klaseng intervention ang pwedeng gawin ng doctor. Malalaman mo kung meron siyang - sa aking pagkakaintindi - blood clot, brain clot," he said.
The army had actually requested for eight of these machines, and the AFPSLAI said they would work on eventually completing the army's wishlist.
Apart from that, the AFPSLAI also donated two electronic jeepneys for possible use at the Libingan ng mga Bayani and inside the headquarters of the Philippine Army. An sport utility vehicle (SUV) was also donated for the army's finance services section.
http://news.abs-cbn.com/nation/06/13/16/philippine-army-chief-proud-of-units-current-state