From ABS-CBN (Jun 29, 2019):
Analyst: 'There's reason to believe' Sulu blasts were suicide attacks by IS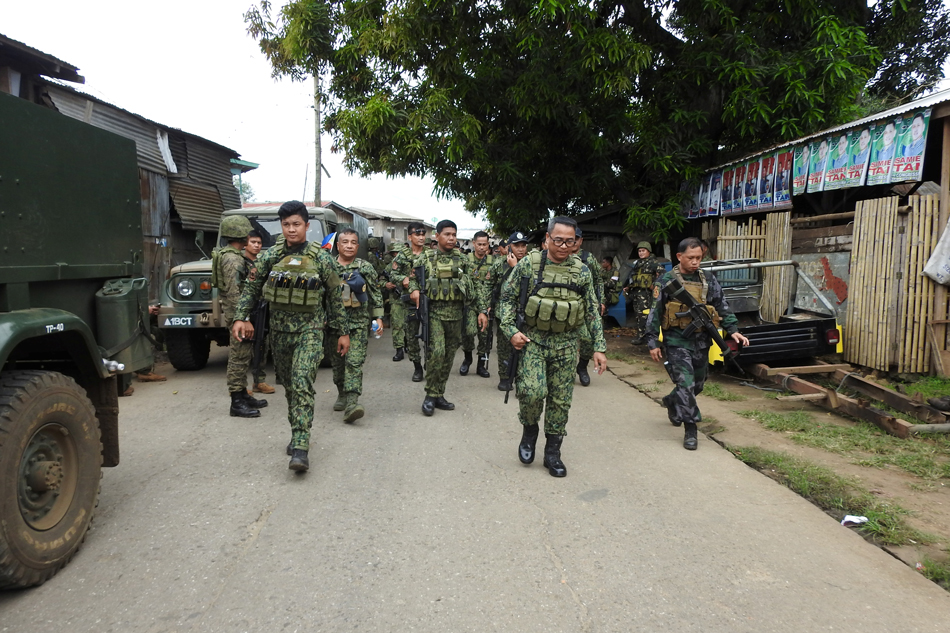 Provincial director Paul Labra walks with police personnel on the way to the blast site to conduct a post-blast investigation at the temporary Camp of 1st Brigade Combat Team (1BCT) in Barangay Kajatian, Indanan town, Sulu, on Friday, June 28. Nickee Butlangan, Reuters

MANILA—A security analyst on Saturday said the bombings in Indanan town, Sulu, which left 8 people dead and 12 others wounded, were suicide attacks.
8 killed, 12 wounded in Sulu blast
Rommel Banlaoi, president of the Philippine Institute for Peace, Violence and Terrorism Research, said he believes the Islamic State (IS) group was behind the blasts.

"I take the word of ISIS for claiming the incident as a suicide attack, because they claimed responsibility for the Marawi City siege, which turned out to be true," he told ANC.

"As far as the track record of claiming responsibility are concerned then the ISIS may have knowledge on this incident. I have reason to believe that it was a suicide attack."
Military officials earlier said the Abu Sayyaf group, an Islamic State-linked terrorist organization, could be behind the blasts, which occurred near a military camp in Barangay Kajatian, Indanan.

Banlaoi warned of ISIS' rising support in the country, citing followings in Mindanao and Luzon.
3 'ISIS supporters' arestado sa Parañaque, Rizal
"It is true that the strength of ISIS is weakening in the middle east particularly in Syria, Iraq but it is not disappearing," he said.
"In fact, just a few weeks ago a group claiming to be followers of Islamic State has pledged allegiance to ISIS again and the the film was done in the Philippines."
Banlaoi added that the Philippines has become "an alternative base for Jihad."
"Particularly from the Middle East and most particularly in Malaysia and Indonesia are being encouraged to come to the Philippines in order to mount violent incidents in southern Philippines," he said.
"And most problematic problem is that some followers are willing to accommodate them when they come to the Philippines."
Banlaoi, meanwhile, assured that government is "exerting its best efforts" to prevent the IS to mount big attacks.
"I'm very very privy to the efforts of our government, particularly coordinating with friendly countries who are willing to share info with us and willing to build our capacity," he said.
"I think what the government should do is to double up its efforts so they will not be outsmarted by the terror groups."
The government earlier said the Abu Sayyaf could be behind the (attack).
"Authorities are eyeing the bandit Abu Sayyaf Group (ASG) behind this dastardly attack," Malacañang said.
Military units in Western Mindanao have been placed on red alert, while Metro Manila police also raised a full alert status as a "proactive" following the incident.
https://news.abs-cbn.com/news/06/29/19/analyst-theres-reason-to-believe-sulu-blasts-were-suicide-attacks-by-is