From the Philippine Star (Jan 13):
Anti-EDCA groups eye appeal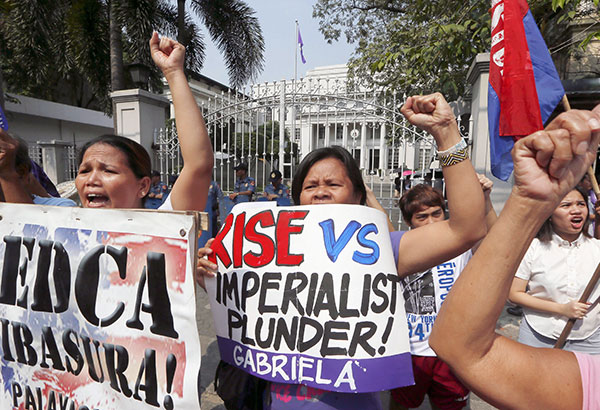 Militants stage a protest against the Enhanced Defense Cooperation Agreement in front of the Supreme Court yesterday. AP
Militant groups yesterday maintained the Enhanced Defense Cooperation Agreement (EDCA) with the United States violates the sovereignty of the Philippines.
Renato Reyes of Bagong Alyansang Makabayan (Bayan) said they are considering the possibility of filing a motion for reconsideration of the Supreme Court (SC) decision upholding the EDCA.
"We shall immediately consult with our lawyers regarding a possible motion for reconsideration, especially since the SC vote was not unanimous. We shall continue to expose and oppose US intervention in the Philippines," Reyes said.
Bayan maintained that EDCA is not the solution to the problem of China's incursions, not when the EDCA also violates the country's sovereignty.
Reyes claimed the EDCA would allow construction of US military facilities on Philippine soil and free use of the country's military bases by US troops.
He said the US would use the Philippines as a launching pad to exercise power over the Pacific region.
Reyes added the Supreme Court must have considered in its decision how the Senate resolved to reject the US bases in the Philippines in 1991.
The

League of Filipino Students

also criticized the government for using the maritime issue against China as pretext for pushing the EDCA.
It also claimed the agreement, signed by the US and Philippine governments hours before the state visit of US President Barack Obama in 2014, violates Article XXIII Section 25 of the 1987 Constitution, stating that foreign military bases and troops "shall not be allowed in the Philippines except under a treaty duly concurred in by the Senate."
The women's group Gabriela expressed concern over the proliferation of cases against women after the EDCA was upheld by the SC.
Joms Salvador of Gabriela
said 800 cases of violence against women were filed against US servicemen, with at least nine other US military men, both active and retired, slapping cases from abandonment to domestic violence received by Gabriela.
Kabataan party-list Rep. Terry Ridon

lamented the decision of the SC declaring the EDCA as constitutional.
He said the SC missed an historic opportunity to stand for sovereignty.
"The decision will set the stage for the return of the US bases in the country albeit disguised as Philippine bases under US control and supervision," Ridon said.
http://www.philstar.com/headlines/2016/01/13/1542058/anti-edca-groups-eye-appeal