From the Philippine Star (Mar 15):
Lack of prosecutors hinders efforts to curb terrorism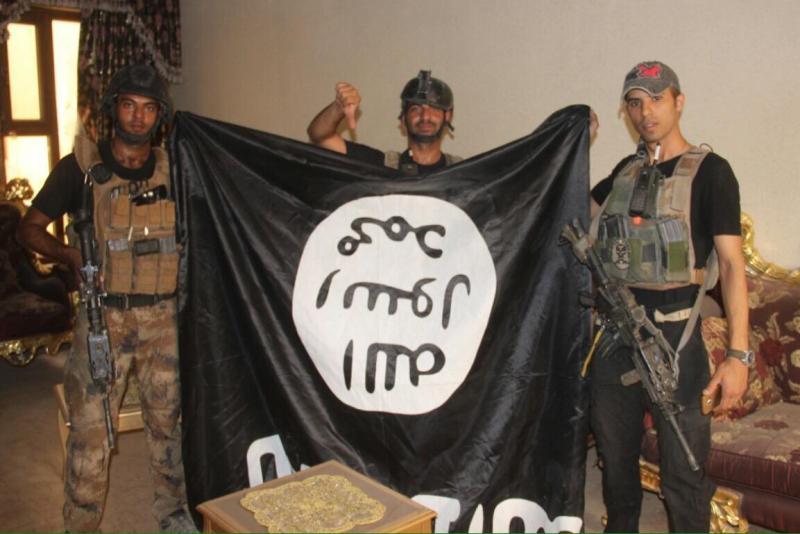 In this image taken by an Iraqi Counterterrorism Service photographer on Sunday, June 19, 2016, soldiers pose with an Islamic State militant flag in Fallujah, Iraq after forces re-took the city center after two years of IS control. Thousands of civilians are fleeing Fallujah after the city was declared liberated from the Islamic State group, the United Nations said, while an Iraqi commander reported fierce clashes as elite counterterrorism forces pushed to clear out the remaining militants. Iraq Counterterrorism Service via AP
The police is bent on prosecuting misguided Islamic militants to the fullest extent of law but is saddled with lack of prosecutors and the reluctance of witnesses to cooperate.
Chief Superintendent Reuben Theodore Sindac, regional police director of the Autonomous Region in Muslim Mindanao (ARMM), said Thursday the issues are affecting their efforts to penalize violent fanatical extremists operating in five southern provinces under their jurisdiction.
He said there is lack of aggressive prosecutors and judges ready to litigate them for heinous offenses.
"Understandably some of them are worried of their safety. We have a strong culture of vendetta clan wars in the region and some prosecutors and judges are vulnerable to retaliations,"
Sindac said.
Sindac said there are also indications that moneyed drug rings are providing fanatical blocs boasting of allegiance to the Islamic State of Iraq and Syria (ISIS) with funds in exchange for safe havens in areas where they operate.
Sindac said among the options to address the constraint is the possible deployment of outsider special prosecutors in the autonomous region to handle cases involving terrorists or to litigate their cases in Metro Manila courts.
"Our personnel are upbeat in building cases against extremists implicated in violent attacks, extortion, kidnapping and other heinous activities but the problem is in the prosecution process. We do everything by the rules, we secure search or arrest warrants the proper way," Sindac said.
Sindac said the prosecution of local terrorists rest in the hands of prosecutors and judges.
"Witnesses are also reluctant to come out and help pin them down for obvious reasons. We have credible witnesses to harmful activities of extremists but they refuse to cooperate for fear of reprisals,"
he said.
The Department of Justice is not among the agencies the national government devolved to the ARMM regional government, operating through constitutional charter, the Republic Act 9054.
There have been recorded murders in the autonomous region of prosecutors and lawyers helping put in jail high-profile offenders in years past.
Sindac said it is also rational to detain terrorists and other suspects in high-profile crimes in facilities outside ARMM that are far from reach of their accomplices or relatives.
Before Sindac got to the helm of the ARMM regional police in late 2016, members of the Dawlah Islamiya, most known as the Maute terror group, raided the Lanao del Sur provincial jail in Marawi City and set free eight companions, two of them women, detained for possession of improvised explosive devices.
The provincial jail in nearby North Cotabato, located in Administrative Region 12, was attacked thrice in a period of nine years by gunmen who sprung from detention several cohorts facing kidnapping, bombing and drug trafficking charges.
The latest of the three attacks on the facility, located in Kidapawan City, the capital of North Cotabato, happened in early January and resulted in the escape of 158 inmates, among them wealthy drug lord Melvin Casangyao.
Among those who had escaped during the jail raid were ethnic Maguindanaons from ARMM's nearby Maguindanao province, implicated in bombings and kidnappings in North Cotabato.
The ARMM provinces of Maguindanao and Sulu are also being pestered by jihadist groups, the Abu Sayyaf and the Bangsamoro Islamic Freedom Fighters (BIFF), respectively.
Like the Maute group, which first emerged in Butig town in Lanao del Sur, the Abu Sayyaf and the BIFF are also using the black ISIS flag as their revolutionary banners.
There are also smaller groups of Abu Sayyaf bandits in Basilan attacking civilian targets from time to time.
There are dozens of criminal cases against key members of local ISIS-styled groups pending in local courts.
Sindac said their provincial police offices in Maguindanao and Lanao del Sur, both in mainland Mindanao, and the island provinces of Basilan, Sulu and Tawi-Tawi have religiously been building airtight cases against terrorists in the autonomous region.
He said their efforts are being supported by the ARMM's inter-agency regional peace and order council and the region's local government department.
"We even had a recent ARMM-initiated dialogue, one that involved the police, the Philippine Drug Enforcement Agency, the Department of Justice, the military and officials of ARMM where we talked about measures intended to resolve the prosecution concerns we are facing," Sindac said.
He said the ARMM government also has limited capability in helping prosecute terrorists and drug traffickers.
http://www.philstar.com/nation/2017/03/16/1681707/lack-prosecutors-hinders-efforts-curb-terrorism