From the Philippine Star (Jan 24):
Marines in Western Mindanao train for urban warfare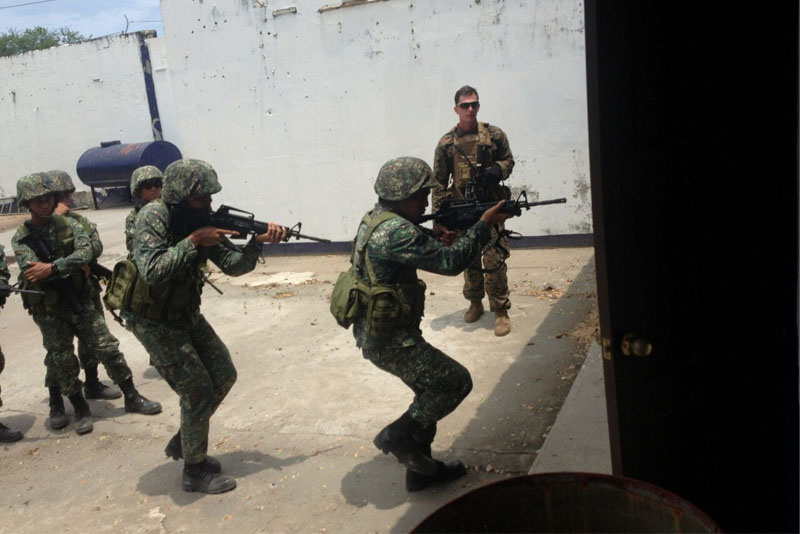 Members of the Philippine Marines practice urban warfare. US Embassy/Released, file
ZAMBOANGA CITY, Philippines —
The Philippine Marines are stepping up urban warfare training after five months in Marawi City against Islamic State-inspired terrorists.
R.Adm. Rene Medina, commander of Naval Forces Western Mindanao, said the Marines now have regular training support from the Australian Defence Force.
"The training on urban terrain is very important to us, particularly to our Marines because of what had happened in Marawi,"
Medina said.
Medina said the Marines are also taking special operations training, including a sniper course.
Government efforts to retake Marawi, parts of which were taken over by Abu Sayyaf and Maute militants on May 23, 2017, were hampered by threats posed by terrorist snipers and marksmen.
He said the siege of Zamboanga City in 2013 and of Marawi City last year changed the landscape of operations and security forces have to adapt to changing operational environments.
The Marines were initially organized for amphibious operations.
Lt. Gen. Carlito Galvez Jr., chief of the Western Mindanao Command, recently disclosed that cities and population centers in Mindanao are probable targets of the IS-inspired Maute and Abu Sayyaf groups.
Galvez said this has prompted authorities to increase security in urban areas.
Medina said the Philippine Fleet has also been receiving training, especially in ship boarding procedures, interception and on encounters in the high seas.
He said the US Navy has been providing operational training to Philippine sailors.
Personnel of the Naval Special Operations Group have been undergoing training on detecting, controlling and disrupting improvised explosive devices.
He said the US and Australia have been providing support as allies against extremist terrorists.
"These are usually technical supports, and we are grateful for that like what happened in Marawi. The other armed forces are filling the technical support which we lack. They complemented a lot," Medina said.