Just posted to the Samar News (Apr 14):
8ID gains heavily against the NPA rebels during 1st quarter 2014
By DPAO, 8ID PA
April 14, 2014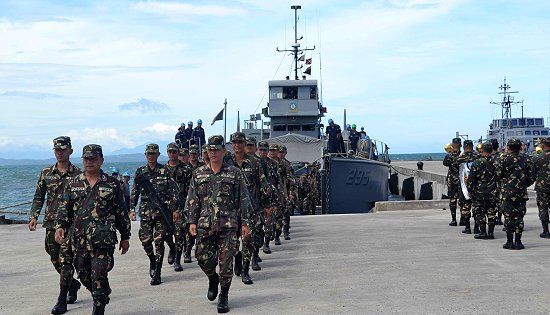 Based from 8ID accomplishment record for the 1st quarter 2014,
the NPA rebels suffered blows in all fronts
. On manpower, twenty six (26) rebels surrendered, seven (7) were arrested and one (1) was killed during an encounter, for a total of 34 rebels neutralized.
On the part of the 8ID, one (1) soldier was killed in action, while two (2) were wounded in action.
On firearms, troops recovered five (5) high powered firearms and fourteen (14) low powered firearms.
Government forces incurred no loss during the period.
8ID was also able to hand over five (5) of the twenty six (26) towns of Samar Province and ten (10) of the twenty four (24) towns of Northern Samar Province to their LGUs as Manageable Conflict-Affected and Development-Ready areas (MCADR) which is a manifestation that the NPA rebels have lost their influence in these 15 towns that were handed over.
The provinces of Samar and Northern Samar in their entirety are scheduled to be handed over by 8ID to their respective provincial peace and order councils in June 2014 and December 2014 as MCADR areas.
In their desperate attempt to offset their setbacks and woes the rebels resorted to killing innocent people compounding their violations against people's rights.
During the period, the rebels perpetrated murders against four (4) innocent and hapless civilians. The NPA murdered one (1) former rebel, one (1) civilian, one (1) Cafgu Active Auxilliary or CAA and one (1) Army reservist.
These commissions of heinous crimes by the NPA rebels will further alienate them from the people who already resent their extortion activities.
Maj Gen Jet B. Velarmino AFP, Commander of the 8th Infantry Division said: "As the timeline of 8ID to accomplish its mission to create an environment conducive to peace and development for the whole of
Eastern Visayas
is nearing, we expect strong resistance from the rebels to defend their dwindling strongholds. But the rebels will not be able to stop the inevitable."
"In the coming months, we will press on with the fight but we welcome peaceful resolution to this armed conflict being waged by the NPA rebels. To pre-empt violence, we invite all stakeholders to get involved in winning the peace by pressuring the rebels to return to the mainstream and to abandon armed struggle. We all need peace for the security and well-being of our people and sustainable development in the region," he added.
http://www.samarnews.com/news2014/apr/d005.htm