From the Philippine Daily Inquirer (May 8):
Talks for next year's PH-US Balikatan start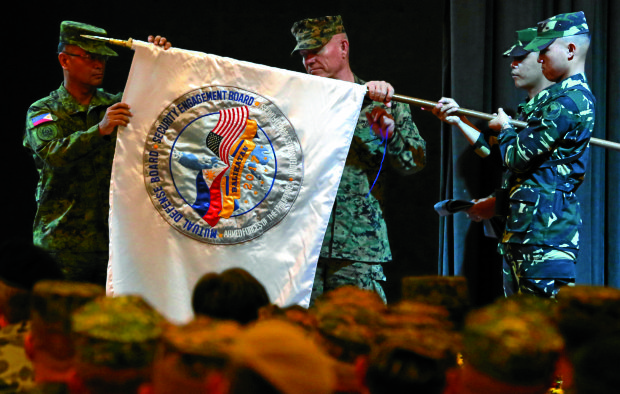 Balikatan 2017 co-directors Lt. Oscar Lactao of AFP and Lt. Gen. Lawrence D. Nicholson, US Marine Corps, unfurl the official flag to be used during the exercises during at the opening ceremony of the 2017 Balikatan military exercise held in Camp Aguinaldo in Quezon City, May 8, 2017. INQUIRER PHOTO / NIÑO JESUS ORBETA
Some of the joint drills between the Philippines and United States may have been scrapped, but it looks like the Balikatan (shoulder-to-shoulder) is here to stay.
This year's Balikatan exercises have just commenced on Monday but talks for the next year's drills are already being planned out.
"The planning exercise for Balikatan '18 is already being discussed,"
said Lt. Gen. Oscar Lactao, Philippine co-director for the Balikatan exercise, without elaborating.
The Balikatan, the largest of the bilateral exercises between the Philippines and United States, has been conducted 32 times since 2000, as part of the Mutual Defense Treaty signed between the two countries in 1951.
President Rodrigo Duterte, who has repeatedly expressed his great dislike for the United States, had previously threatened to scrap the Balikatan but was eventually talked out of it. But other PH-US drills were scrapped — the Philippine Amphibious Landing Exercise (Phiblex) and Cooperation Afloat and Readiness Training (Carat), which focus on external and maritime defense.
This year's Balikatan will focus on disaster operations and counterterrorism, a shift from the external and maritime security highlighted in recent years. The activities to be held May 8 to 19 include disaster preparedness training in Fort Magsaysay, Nueva Ecija; civil military activities from the sea in Casiguran, Aurora; humanitarian assistance disaster relief in Upi, Isabela; and humanitarian civic action and engineering civic assistance project in Surok, Guian, Samar.
READ:
Disaster response is this year's focus in Balikatan
Despite the scaled-down joint drills for this year, participating troops believe that it will have a favorable outcome.
"I'm confident that this year's a success. This year's exercise is gonna be a great success….it may change, it may get larger, it may get smaller. You know for 33 years I don't think they all look the same, they've always been a little different. So we look forward to a great exercise and great building and great cooperation between our two armed forces," said Lt. Gen. Lawrence Nicholson, US co-director for the Balikatan.
https://globalnation.inquirer.net/156263/talks-next-years-ph-us-balikatan-start