From Rappler (May 8):
AFP sees no ISIS, Maute links to Quiapo blasts
Armed Forces of the Philippines chief General Eduardo Año echoes earlier statements of the PNP and Malacañang that terrorists were not behind the explosions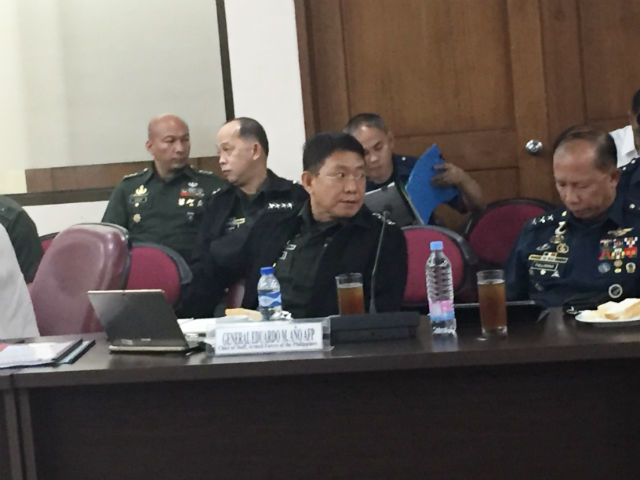 NO TERROR LINKS. AFP chief General Eduardo Año attends a briefing with lawmakers on May 8, 2017. Photo by Mara Cepeda/Rappler
Armed Forces of the Philippines (AFP) chief General Eduardo Año said the military has not seen any evidence linking the recent twin explosions in Quiapo, Manila to the Islamic State (ISIS) or to the local Maute Group.
"So far, sir, we haven't seen any connection to ISIS or Maute because the target is an imam… There are some factions that are at odds with this imam,"
Año said during a briefing with the House committee on national defense and security on Monday, May 8.
The AFP and Department of National Defense were briefing lawmakers on the state of security in the country as well as the status of the AFP modernization program.
"We are waiting, sir, for the investigation of the PNP (Philippine National Police). There are some personalities identified with Maute or the ASG (Abu Sayyaf Group), but that doesn't conclude that an ISIS cell is existing,"
added Año.
Two blasts
struck the densely-populated Quiapo district on May 6, leaving 2 dead and 6 injured.
Police believe imam Nasser Abinal was the likely target of the attack, possibly due to personal reasons, his work, or his religion.
On April 28, an improvised explosive device also went off in Quiapo,
injuring at least 14 people
. The Manila police already
nabbed
one of the 4 suspects.
The Quiapo blasts were
claimed by ISIS
, but the PNP declared that there is not enough evidence to blame the incidents on the international terror group.
Malacañang has called for calm and urged the public to stop spreading
"news from unverified sources."
http://www.rappler.com/nation/169259-afp-no-isis-maute-links-quiapo-manila-blasts