From ABS-CBN (Apr 9, 2019):
Aircraft carrier spotted off Scarborough Shoal
Planes were seen landing and taking off from the ship, some 3 miles away from the Filipino fishermen's boat. ABS-CBN News has yet to confirm the identity of the aircraft carrier as of this writing.
China has had effective control of Scarborough Shoal, a rich fishing ground, since the end of a naval standoff between Filipino and Chinese ships in 2012.
The Scarborough Shoal standoff was part of Manila's international arbitration case against Beijing, which it won in 2016. However, President Rodrigo Duterte refused to flaunt the victory and instead sought closer economic and diplomatic ties with China.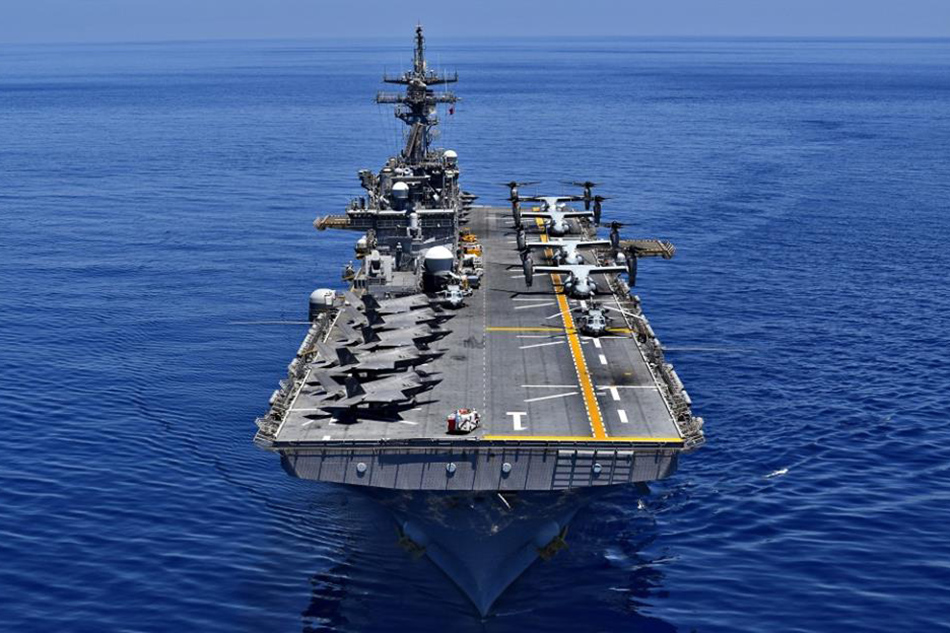 Photo courtesy of USS 7th Fleet
Meantime, the United States has
deployed
its USS Wasp amphibious assault ship to the Philippines for the annual Balikatan exercise from April 1 to 12, US military publication Stars and Stripes said Tuesday.
The 844-ft vessel "employs 31 aircraft and can launch Marine amphibious craft from its well deck," the Stars and Stripes said.
In a
report
by The Japan Times, a U.S. military spokeswoman did not confirm or deny the Wasp's presence near Scarborough Shoal.
The spokeswoman, however, said that the Wasp "has been training with Philippine Navy ships in Subic Bay and in international waters of the South China Sea … for several days."
https://news.abs-cbn.com/video/news/04/09/19/aircraft-carrier-spotted-near-scarborough-shoal