From the Philippine Star (Dec 15):
Bus burnings worry Soccsksargen entrepreneurs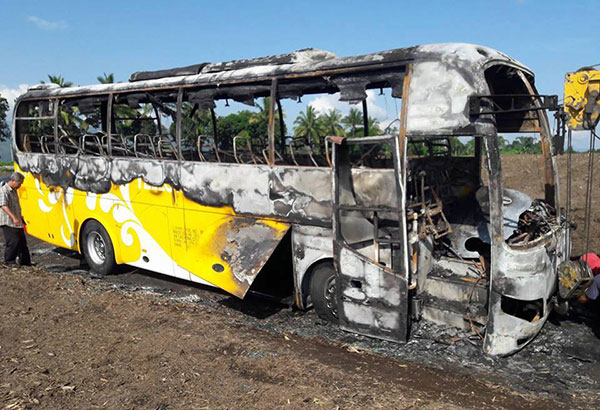 This file photo shows a bus burned by suspected NPA rebels. According to the regional Tourism office, the attacks are making local entrepreneurs worry. File photo
Stakeholders are worried the series of bus burnings in central Mindanao will dampen the region's tourism climate and erode investor confidence in the local economy.
Nelly Dillera, regional director of the Department of Tourism, on Thursday said eco-tourism entrepreneurs want authorities to address the problem to keep their operations — which employ residents and generate much-needed revenues for local governments — from being affected by the backlash.
No fewer than 10 airconditioned buses have been burned in arson attacks by suspected New People's Army guerrillas in central Mindanao's Sultan Kudarat, South Cotabato and Sarangani provinces in the past six months.
The latest of these attacks happened Tuesday night in South Cotabato's supposedly tranquil Santo Niño municipality, where there are farm resorts frequented by tourists.
Disguised as passengers, five alleged NPAs who had handguns in sling bags commandeered a unit of the Yellow Bus Line en route to General Santos City.
The gunmen forced the bus driver and his passengers to alight before they set bus on fire with kerosene in sealed containers that they brought with them.
It was the fourth unit of the same bus company that NPAs burned in just seven weeks in central Mindanao.
The NPAs has claimed responsibility for the arson attacks through radio stations in the region.
"These burning of buses are so saddening. These incidents can affect the local tourism and business atmosphere," Dillera said.
The Regional Police Office-12 in General Santos City said Thursday that municipal police offices in Sultan Kudarat, North Cotabato, South Cotabato and Sarangani provinces will enlist the help of barangay officials in covert intelligence operations against NPA rebels preying on units of different bus companies.