From the Philippine Star (Aug 25):
'No such thing' as militarization in countryside, Duterte says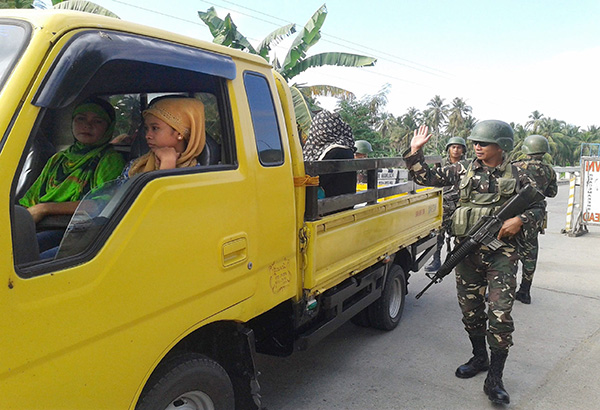 In this February 1, 2015 file photo, soldiers man a checkpoint on the highway in Maguindanao province. John Unson, file
There is no militarization happening in the countryside, President Rodrigo Duterte said despite maintaining that there should be soldiers "in every inch" of the country.
Some indigenous peoples groups have demanded the pull out of soldiers in areas they consider their ancestral domain.
Advocates of indigenous peoples' rights claim that military presence in the countryside has been causing displacement and anxiety among local communities.
Duterte, however, does not see anything wrong with deploying of soldiers in Lumad areas.
"There is no such thing as a militarization. Every inch of this property of the Republic must be occupied by the soldiers of the government," the president said in a press conference late Wednesday night in Davao City.
"Perhaps overt acts like clashes should be the ones to be avoided," he added.
Duterte said there are also armed groups in the countryside that are sympathetic to the Communist Party of the Philippines.
"They also have private armies. They also have regular ones. Each of them have their own spheres of influence," the president said.
Activists have accused the military of intimidating Lumad communities and executing tribal leaders believed to have ties with the communists.
Security officials have denied this and insisted that soldiers in the countryside were merely protecting residents from security threats and implementing development projects.
In July, two members of the Bagobo Klata tribe -- Hermie Alegre and Danny Diarog -- were shot in Tugbok, Davao City. Both were rushed to a nearby hospital but Alegre was pronounced dead on arrival.
That same month, the 10th Infantry Division reported that Ruben Labawan -- a chieftain of the Ata-Manolo tribe in Davao's Paquibato district -- and Romeo Tanio were killed after attending a meeting organized by the National Commission on Indigenous Peoples.
The Army said the two were killed by the New People's Army.
In early June, 10 Lumads were reportedly killed in separate incidents in Bukidnon.