From the Philippine Star (Nov 25):
Japan defense minister supports US in South China Sea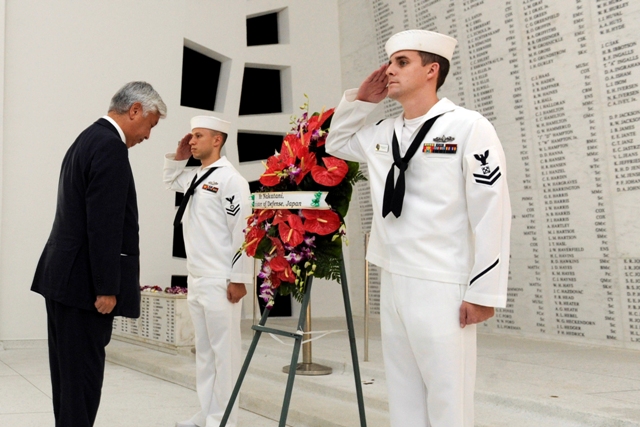 Japan Minister of Defense Gen Nakatani, middle, visits the USS Arizona Memorial, Monday, Nov. 23, 2015, to lay a wreath in the Shrine Room of the memorial. Nakatani was scheduled to meet with U.S. Pacific Command commander Adm. Harry Harris on Tuesday. The Pacific Command said Nakatani's discussions were expected to cover security in the region, including in the East and South China Seas. Ballistic missile defense was also on the agenda. Bruce Asato/The Star-Advertiser via AP
Japanese Defense Minister Gen Nakatani is expressing his support for the U.S. Navy's sailing of a warship close to one of China's artificial islands in the South China Sea.
Nakatani met Pacific Command commander Adm. Harry Harris in Hawaii on Tuesday.
Nakatani told reporters he told Harris that the U.S. military was at the forefront of the international community's efforts to protect open, free and peaceful oceans in the South China Sea.
He told reporters he expressed Japan's support for U.S. actions to Harris.
The U.S. Navy sailed a guided missile destroyer inside what China claims is a 12-mile territorial limit around Subi Reef in the Spratly Islands last month.
The move was a challenge to what the U.S. considers Beijing's "excessive claim" of sovereignty in those waters.
http://www.philstar.com/headlines/2015/11/25/1525799/japan-defense-minister-supports-us-south-china-sea