From the Philippine Star (Jun 29):
MILF commander attacks remote North Cotabato village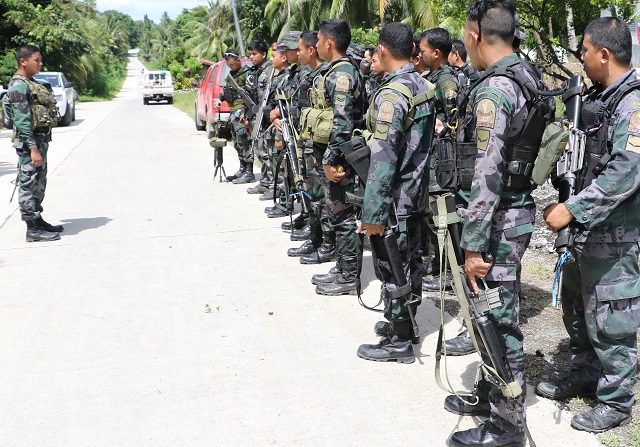 (Updated 5:31 p.m.) —
Members of the Moro Islamic Liberation Front on Thursday attacked militiamen guarding a remote barangay in Cotabato province, sending hundreds of villagers running for safety.
Local officials told reporters the group that raided a farming community in Sitio Valencia in Barangay Bualan in Pikit, North Cotabato is led by Abdulrashid Ali, a senior leader in the MILF's 105th Base Command.
Ali lost two followers to barangay tanods and local members of the Citizens Armed Forces Geographical Unit in an encounter in the same area early this year, triggered by an attempt to rob farmers there of cattle foraging in open fields.
Capt. Arvin Encinas, public affairs chief of the Army's 6th Infantry Division, said Thursday that local officials and barangay folks have confirmed that

Ali, also known as "Commander RP,"

led the incursion into Sitio Valencia.
Sitio Valencia is located near the border of Pikit and Aleosan towns, both in the first district of North Cotabato.
"This commander belong to the 105th Base Command of the MILF,"
Encinas said, citing reports by displaced barangay residents.
Although outnumbered, the barangay tanods and CAFGUs managed to outflank Ali's group, forcing them to retreat carrying three wounded companions.
There is an existing truce between the government and the MILF, the July 1997 Agreement on General Cessation of Hostilities, binding both sides to resolve peacefully security issues besetting areas where there is presence of rebel groups.
The government and the MILF also signed a final peace agreement, the Comprehensive Agreement on Bangsamoro, on March 27, 2014, but this has yet to be implemented through the passage of a Bangsamoro Basic Law that will create a political entity with more powers than the current Autonomous Region in Muslim Mindanao.
The spokesmen of the two factions in the Bangsamoro Islamic Freedom Fighters both denied any involvement in the harassment of the militiamen and civilian volunteers. The BIFF briefly occupied villages in Pigcawayan town last week but were beaten back by security forces.
Encinas said Army units in Pikit and Aleosan are now guarding the village to prevent a repeat of the incident.
The North Cotabato provincial police office has also tightened security in areas vulnerable to attacks by Ali's group.