From the Philippine Star (May 13):
AFP mum on Joma Sison's plan to return to Philippines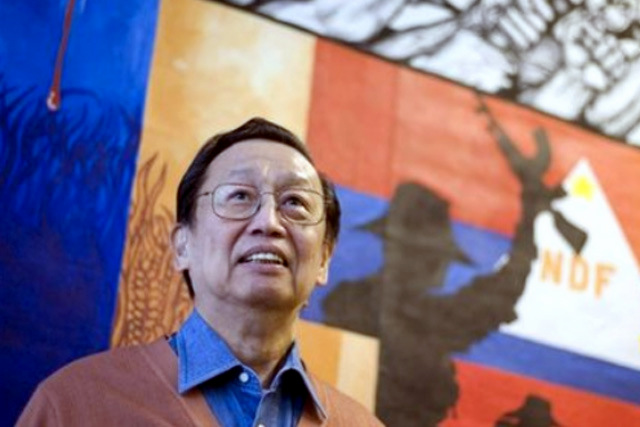 Jose Maria Sison, a former social science and English professor, founded the Communist Party of the Philippines on Dec. 26, 1968. File photo
The military on Friday kept mum on reports that Communist Party of the Philippines (CPP) founder Jose Ma. "Joma" Sison would end his self-exile and return to the country after Davao City Mayor Rodrigo Duterte assumes the presidency.
"This is still highly speculative and hence, we have respectfully declined to comment,"

Armed Forces of the Philippines (AFP) spokesman Brig. Gen. Restituto Padilla

told The STAR.
The 125,000-strong Armed Forces, nevertheless, vowed to support the national security policies of Duterte, who already have nearly 16 million votes as of this writing.
"The AFP fully supports whatever policy would be set by the next commander-in-chief," Padilla said.
"We are also in favor of holding peace talks with all groups so we can have lasting peace in our country," he added.
Padilla said the gains of economic development would be felt if the security issues of the problem are resolved.
Earlier, Sison said he would end his decades-long self-exile in the Netherlands if Duterte, his former student, visits him. He also said that the prospect for the peace talks with the government "seem to be bright at the moment."
Sison, a former social science and English professor, founded the CPP on Dec. 26, 1968. The CPP is the political arm of the communist rebellion in the Philippines while the New People's Army (NPA) is its military wing.
Military officials claim that the NPA has less than 4,000 members, down from a peak of more than 25,000 in the 1987.
Negotiations between the government and the communists hit a snag after the two parties failed to reach an agreement on jailed rebel leaders.
The National Democratic Front of the Philippines (NDFP), which represented the CPP and NPA in the talks, had demanded the release of rebels facing criminal cases, saying they are working as peace consultants and should therefore be immune from arrest.
The NDFP said releasing the jailed consultants is in line with the Joint Agreement on Safety and Immunity Guarantees signed by peace negotiators in 1995.
Government negotiators, however, rejected the demand, saying there is no way to confirm the identities of the rebels especially those using aliases.
During the campaign period, Duterte's rivals claimed that the mayor has close ties with the NPA and warned that communism would prevail in the country if he wins.
http://www.philstar.com/headlines/2016/05/13/1582831/afp-mum-joma-sisons-plan-return-philippines