ABS-CBN (Oct 19):
Police defend action: 'We did not intend to run over militants'
MANILA - The Philippine National Police (PNP) said they did not intend to run over militants rallying in front of the US Embassy, adding that they were merely trying to remove the vehicle from the area.
In an interview with ABS-CBN News, Police Officer 3 Franklin Kho, who was driving the police mobile, said rallyists were trying to seize the vehicle.
"Inaagaw na ng mga rallyista yung sasakyan eh, kaya napilitan akong kunin ko yung sasakyan, kaya napaatras ko. 'Yun ang nangyari [The rallyists were trying to get the vehicle from us, so I was forced to take over the vehicle, and then I accidentally drove in reverse. That's what happened]," Kho said.
He added that if they allowed the militants to get the vehicle, then it would have been used to run over the policemen in front of the area.
"O eh kami naman ang sasagasaan nila kung nakuha nila 'to eh [They will run over us if they get the vehicle]," Kho said.
According to Kho, militants were trying to turn the police car over even when he and another policeman were inside.
He also insisted that he had no intention of running over the militants.
"Wala naman kaming intensyon na gawin sa kanila 'yun [We did not intent to run over them]," Kho said.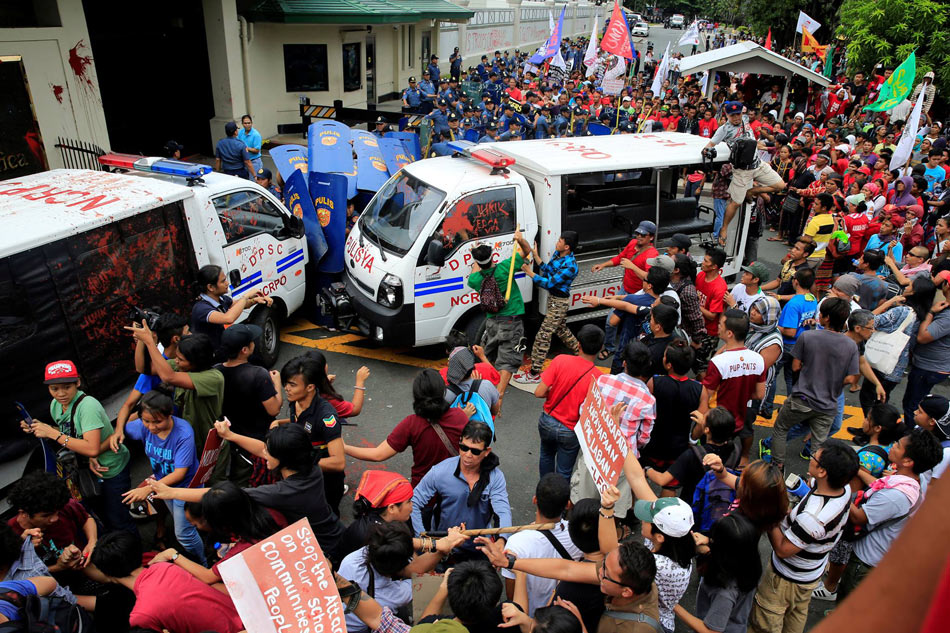 Police Senior Supt. Marcelino Pedrozo, ground commander of the Manila Police District, also insisted that they exercised maximum tolerance, but the militants did not respect the rights of the policemen.
"Sila po, hindi po nila ginamit ang kanilang dapat gawin. Hindi nila inayos ang kanilang mga hanay. Hindi nila na-kontrol ang kanilang mga hanay. So ano pong nangyari ngayon, nagkagulo. Sinong may kasalanan niyan? Sila mismo ang may kasalanan niyan. Unang-una wala po sila sa lugar, wala po silang permiso para magrally [We cannot do anything because they weren't respecting the police. They were hurting the police, they did not respect the rights of the police. We exercised maximum tolerance, but they did not do what they should do. Who should be blamed? They are at fault. They didn't have a permit to rally]," he explained.
Pedrozo added that around 30 policemen were injured in the incident, with the numbers expected to increase as they continue with their investigation.
According to Pedrozo, they did not intend to hurt militants.
"Hindi po sinasadya 'yun, binabasag po nila 'yung salamin nung ating government vehicle. Ang kagustuhan lang naman po ng pulis natin, alisin po yung mobile car sa lugar na 'yun. Hindi po talaga sinasadya kung may nasaktan [We did not intend to hurt them, they were destroying the government vehicle. What the police want was to remove the police car from the area. We did not mean to hurt them]," he said.
Activists from Bagong Alyansang Makabayan (Bayan) and various indigenous groups were seen attacking a police mobile at the height of the protest aimed at stopping "US intervention" on Wednesday.
Police retaliated and ran over some protesters. The activists ran for safety but several people were hit by the police vehicle.
http://news.abs-cbn.com/news/10/19/16/police-defend-action-we-did-not-intend-to-run-over-militants