From the Philippine Star (Oct 19):
AFP confident Malaysian terrorist killed in Marawi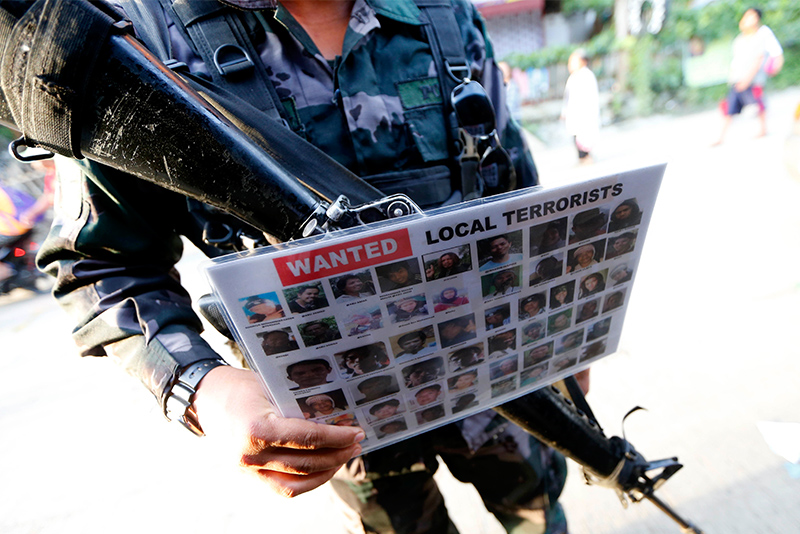 Wanted Malaysian terrorist Mahmud Ahmad is believed to have been killed in Marawi city following continued operations by the Philippine military. Associated Press/Bullit Marquez, File
The Armed Forces of the Philippines (AFP) on Thursday said it is becoming confident that Malaysian terrorist Mahmud Ahmad is one of the 13 militants killed in Marawi City.
AFP chief Gen. Eduardo Año however said they have yet to confirm the terrorist's death as the identities of the 13 militants killed on Wednesday have yet to undergo validation process.
Año said the information on Ahmad's death were received from the rescued hostages.
"AFP is increasingly becoming confident that he was among those who have been killed during [Wednesday's] operations. The process to confirm this with finality, however, is still ongoing," Año said.
Deputy Commander Joint Task Group Ranao Romeo Brawner said the authorities have yet to retrieve the bodies of the 13 militants killed.
Once these bodies are retrieved, he said the forensic experts of the Scene of the Crime Operatives will then determine the identity of the cadavers through analysis.
The task force commander clarified that they are not sure if Mahmud is the last foreign terrorist target of the authorities but he said he is one of the "high value individuals" being pursued.
Mahmud reportedly
provided more than $600,000 to finance the siege
in Marawi City, which started last May.
'Relentless' operations in Marawi
Año said the military's operations Wednesday evening had "very positive" results. He cited that they were able to neutralize 13 rebels.
"Our operations to flush out and deal with terrorist stragglers [have] been continuing relentlessly," he said.
Among those rescued is a 16-year-old girl who sustained splinter wounds but is now out of danger.
The AFP chief added that six military men sustained minor wounds.
"Troop morale remains very high and motivation to finish the fight is as its highest," Año said.
On Tuesday, President Rodrigo Duterte declared the liberation of besieged Marawi City from terrorists. His announcement came after Marawi siege leaders Hapilon and Omar Maute were killed in a military operation on Monday dawn.