From the Mindanao Examiner (Jun 1):
Wayward bomb hits ground troops battling ISIS in Marawi City, 11 killed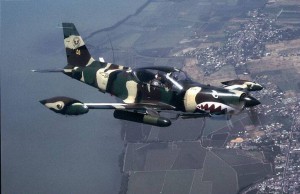 A Philippine Air Force SF 260 trainer plane.
A wayward bomb dropped from a military trainer and attack plane killed 11 soldiers and wounded seven others during a sortie that targeted local ISIS fighters in the war-torn city of Marawi in Lanao del Sur province in southern Philippines, security officials said on Thursday.
Officials said an investigation was launched to determine what went wrong and called it an "unfortunate incident." The bomb from one of the SF 260 air force planes found its way on a group of soldiers fighting the militants on Wednesday.
"One of our SF 260W aircraft conducting airstrike that day was successfully hitting its assigned target in its earlier sorties. However, it was unfortunate that the last ordnance round it delivered went wayward for an unknown reason and accidentally hit and caused the lives of our ground forces,"
said military spokesman Colonel Edgard Arevalo.
In February 2015, two pilots – Capt. John Bayao and 1st Lt. Nazer Jana – of a SF 260 aircraft also died when their plane crashed to the sea off Batangas province while on a training flight.
He said Philippine military chief General Eduardo Año ordered the creation of a Board of Inquiry "to determine what went wrong and ensure no such incident ever happens again in the future."
"While the AFP (Armed Forces of the Philippines) leadership commits and takes the initiative to conduct a thorough investigation on the circumstances surrounding this unwanted development, the AFP will remain focused on its mission. While we mourn the loss of our valued men, we will attend to their bereaved families and provide comfort and solace to them during this trying time,"
Arevalo said.
Arevalo said despite the deadly incident, the military offensives against the militants will continue in Marawi which has been occupied by jihadists since May 23 and held hostage at least 240 civilians, including a Catholic priest, Chito Suganob.
"Amidst this backdrop, we will be unrelenting in the pursuit of our mission. The drive and the resolve of every AFP personnel in the air, ground, and water remain undiminished. We will incessantly push our way forward to retake the remaining part of Marawi and liberate the people that the terrorists continue to use as human shield. We will take down every Maute-ISIS member that continue to desecrate the Islamic City and thwart the security forces from restoring peace and order in this part of Mindanao," he said.
Arevalo said 120 militants had been killed by security forces since the start of siege, but troops were facing difficulties in their house-to-house searches because of snipers. Dozens of soldiers were also slain and wounded in the battle.
"The AFP has greatly diminished the number of the terrorists having neutralized so far 120 from the ranks of the terrorists and undetermined number of them wounded. However, the recalcitrant remnants of the Maute-ISIS refuse to heed the call of government to give up their arms and continued their resistance while holed in fortified buildings and structures,"
he said.
But photos posted by ISIS fighters on Facebook also showed at least 4 army and police armoured personnel carriers they destroyed during the clashes. A video showing one fighter firing a rocket-propelled grenade on the police armoured vehicle also went viral on social media and a copy of the clip was also shown on television.
Arevalo said the military is using armour, artillery, and airpower capabilities in support to foot soldiers in an effort to breach the fortified walls, decks, and undergrounds of buildings where militants are holed out. "We need to neutralize the remaining members of this rebel group and their leaders," he said.
Tens of thousands of civilians have fled Marawi City and sought safe refuge in the cities of Iligan and Cagayan de Oro, but authorities said at least 2,000 people are still trapped in the fighting.
http://mindanaoexaminer.com/wayward-bomb-hits-ground-troops-battling-isis-in-marawi-city-11-killed/