From Rappler (Nov 26):
PH, Vietnam navies deepen ties amid regional sea tension
Two Vietnamese warships are on a 'goodwill visit' to Manila, seen as a sign of stronger relations between the Philippine Navy and the Vietnam People's Navy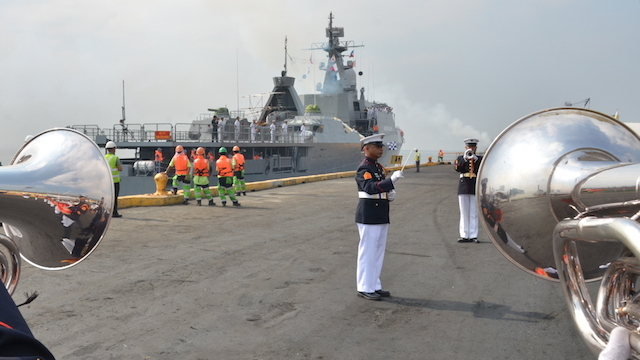 "This first port call is a positive and good sign of the improving and deepening relations between the Philippine Navy and the Vietnam People's Navy," said
Lieutenant Commander Marineth Domingo, spokesperson of the Philippine Navy.
The two Vietnamese warships –

Dinh Tien Hoang (HQ-011) and Ly Thai To (HQ-012)

– carries about 200 navy officers

led by
VPN Deputy Chief of Staff Rear Admiral Nguyen Van Kiem.
The VPN Deputy Chief and the commanding officers of the ships
visited the Philippine Navy headquarters, and were received by Philippine Navy Vice Commander Rear Admiral Caesar Taccad.
Domingo said the visit will also include activities such as goodwill games, ship tours, and receptions to promote camaraderie and friendship between the officers.
The two countries signed a Memorandum of Agreement (MOA) on Defense Cooperation in October 2010, but the activities between the navies were only held this year: the PN hosted the first staff-to-staff meeting in March; in June, Vietnam
hosted the first PN-VPN Personnel Interaction at Southwest Cay Island.
Domingo said the focus of recent activities between the Philippines and Vietnam is Humanitarian Assistance and Disaster Relief (HADR) and cultural engagements "to
better understand the different cultures and to foster camaraderie and friendly relations between the two nations."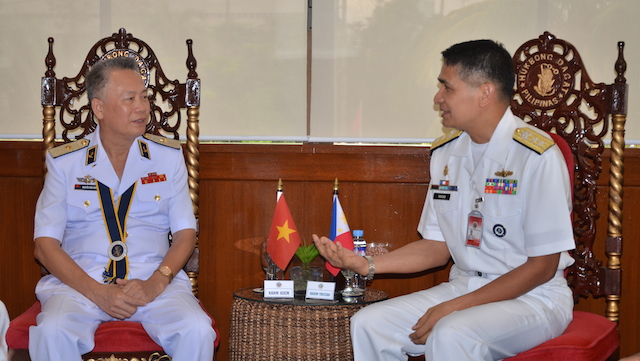 Information sharing is included in the newly-drafted Memorandum of Understanding that is meant to implement the 2010 MOA.
"
Under the proposals, both parties discussed ways on cooperating through reciprocal visit and exchanges, personnel education and training exchanges, naval technology exchanges, and intelligence and information exchanges," Domingo said.
The two countries, both with overlapping claims in the West Philippine Sea (South China Sea), are leading the fight against China's aggressive claim over almost the entire South China Sea. The coasts of the Philippines and Vietnam constitute the eastern and western corners of the South China Sea, respectively.
http://www.rappler.com/nation/76139-ph-vietnam-cooperation-maritime-dispute