From GMA News (May 20):
US may give PHL more support to counter pressure from China over sea dispute
A think tank believed to be influential in the Obama administration has hinted of more support by the United States to the Philippines in order to counter further pressure from China over the Second Thomas Shoal (Ayungin Shoal) in the Spratlys in South China Sea (West Philippine Sea).
Patrick Cronin, senior director for Asia Pacific security program of Washington-based Center for a New American Security (CNAS),

said there is need for the Philippines to "shore up" BRP Sierra Madre, a Navy ship that was deliberately run aground in 1999 and has since then deteriorated into its present decrepit condition.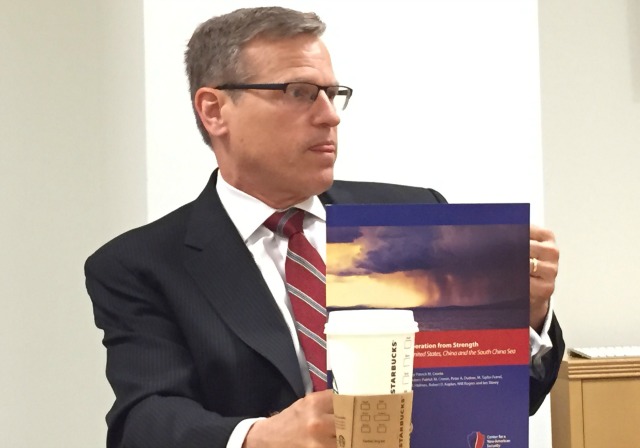 Patrick Cronin of the Washington-based Center for a New American Security said the Philippines needs to 'shore up' the BRP Sierra Madre stationed on Ayungin Shoal. Sandra Aguinaldo
The
BRP Sierra Madre
serves "as a
permanent Philippine installation
in response to China's illegal occupation of Mischief Reef in 1995," the Deparment of Foreign Affairs previously said.
In a briefing with Asian journalists visiting Washington D.C., Cronin said the Philippines needs "to do more than just resupply food and water" to the small group of Marines stationed on the ship.
"It would have to shore up the structure in order to preserve it (BRP Sierra Madre)," Cronin said.
He warned that making improvements on the ship would certainly be opposed by China which has constantly maintained patrol ships near Ayungin Shoal. However, he also hinted of support from the US government.
"The United States would probably be in a stronger position soon to make sure that we can give more backing to the Philippines… I suspect more forward leaning in terms of trying to give Philippines support against potential coercion or actual coercion on this issue. It (the United States) is trying again to signal to China that is not a good behavior," Cronin said.
CNAS is said to have provided security and military analysis for the White House and that some of its former officials have been appointed to various posts in the Obama administration.
Air Defense Identification Zone
Cronin also sees the possibility of China declaring the West Philippine Sea as an Air Defense Identification Zone (ADIZ).
"They (China) are already basically building these artificial islands to give them the de facto capability to enforce an ADIZ. I believe that's why China has not announced (the ADIZ) because it would be opposed by most ASEAN countries, if not all. They wanna make sure they have the positioning right when they announce it," Cronin said.
Should this happen, Cronin said the United States would likely challenge China's claim of control of the airspace as it had done in the East China Sea.
In a separate briefing, Michael Fuchs, Deputy Assistant Secretary for East Asia and Pacific Affairs of the US State Department, reiterated Washington's "strong interest" in maintaining freedom of navigation in the South China Sea.
"Without a doubt, our presence and freedom of navigation will continue. We do believe that it is welcomed by the countries in the region, and contributing factor to peace and stability," Fuchs told journalists from the Philippines, Brunei, Malaysia, Vietnam, Indonesia, Singapore and Thailand currently on a reporting tour in Washington, DC.
He added that China, the second largest economy in the world, is not totally unaffected and has even backed down on some issues due to international pressure.
"China is paying a reputational cost for their actions in the South China Sea. You can look at other instances where China has taken an action or perhaps taken a step back or not fully implemented its previous action. For instance the Hainan fishing regulations, or the ADIZ over the East China Sea. Examples of areas where I think the Chinese have recognized that their actions are assertive," Fuchs said.

China, Taiwan, Philippines, Vietnam, Brunei and Malaysia lay claim on parts or virtually the entire South China Sea with its islands and reefs where undersea gas deposits have been discovered in several areas.

Analysts have feared the conflicts could be Asia's next flashpoint.