From Rappler (Mar 4):
Conflict displaces 75,000 in Maguindanao, North Cotabato
There is growing concern over the duration and scope of the military offensive against Moro rebels, a report by the UN refugees body says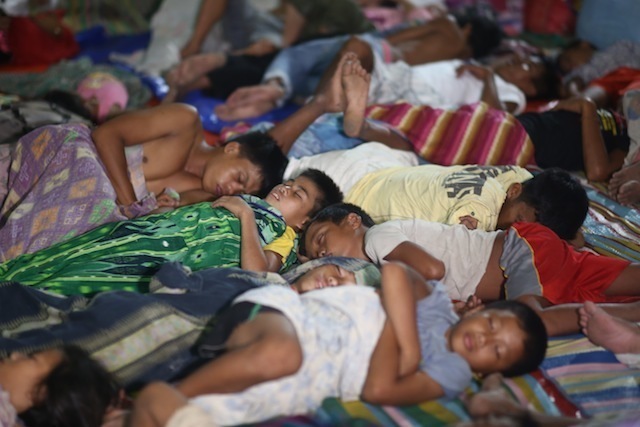 Military operations against rebel group Bangsamoro Islamic Freedom Fighters (BIFF) displaced at least 8,149 families or 40,745 individuals in Maguindanao as of Tuesday night, March 3. This is according to a report from the Protection Cluster prepared by the United Nations High Commissioner for Refugees (UNHCR) Philippines. (READ:
Maguindanao in state of calamity; 41,000 evacuees
)
Meanwhile,at least 6,383 familes or 34,925 individuals were forced to evacuate as the dispute between members of the BIFF and the Moro Islamic Liberation Front (MILF) continued.
It has been weeks since a firefight erupted between the two groups in Barangay Kalbugan in Pagalungan town, North Cotabato, reportedly due to "contending controls over the areas." (WATCH:
Pagalungan
)
Established by the National Disaster Coordinating Council in 2007, the Protection Cluster is composed of over 100 members, including national and international NGOs, as well as government and United Nations agencies.
The Armed Forces of the Philippines launched an
"all-out offensive"
against the BIFF two weeks after the MILF-BIFF clash in Pagalungan, which came in the aftermath of the
Mamasapano clash
.
Close to 400 members of the police Special Action Force entered Mamasapano town, Maguindanao, a known bailwick of the MILF, on January 25 to arrest wanted terrorists Zulkifli bin hir, better known as Marwan, and Abdulbasit Usman. However, MILF and BIFF combatants in the area surrounded SAF members on their way out, triggering a firefight that killed 44 elite cops, 18 MILF rebels, and at least 3 civilians. Marwan was killed in the operation but Usman was able to get away.
Due to the ongoing military operations, BIFF fighters were believed to have fled to the towns of Sultan sa Barongis, Rajah Buayan, and Mamasapano in Maguindanao.
But evacuees, especially those in Pagalungan, have not been able to return to their communities due to fears that the BIFF planted landmines in the area. The military is presently conducting clearing operations.
The BIFF reportedly
burned down
8 houses in Pagalungan and 28 houses in Pikit town, North Cotabato.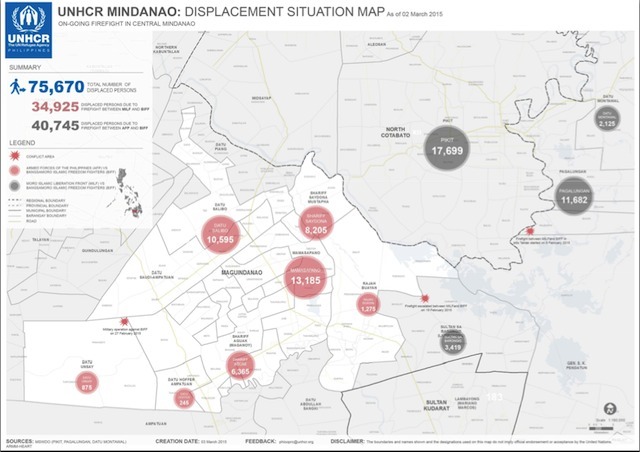 Concern over duration of offensive
According to the report, evacuation camps – spread out in different areas across Maguindanao and North Cotabato – are not organized, with limited food rations and sources of water.
The needs of vulnerable groups – such as children, the elderly, and pregnant and lactating mothers – have yet to be fully addressed, the report said.
In Pagalungan, classes in at least 6 schools were suspended, affecting at least 2,446 students. This places students in a difficult position, especially since the school year 2014-2015 is ending soon.
Some evacuees, who are thought to have ties with the BIFF, meanwhile, are having difficulty seeking refuge in the evacuation centers.
Maguindanao Governor Esmael Mangudadatu has assigned a task force to deal with the situation in Pagalungan, the report said. On Tuesday, March 3, Maguindanao declared a state of calamity.
The Autonomous Region in Muslim Mindanao government conducted relief operations Tuesday while validating reports of displaced residents. They were able to serve 4,323 families or 21,615 residents.