From the Philippine Star (Apr 1):
Minor hurt in North Cotabato blast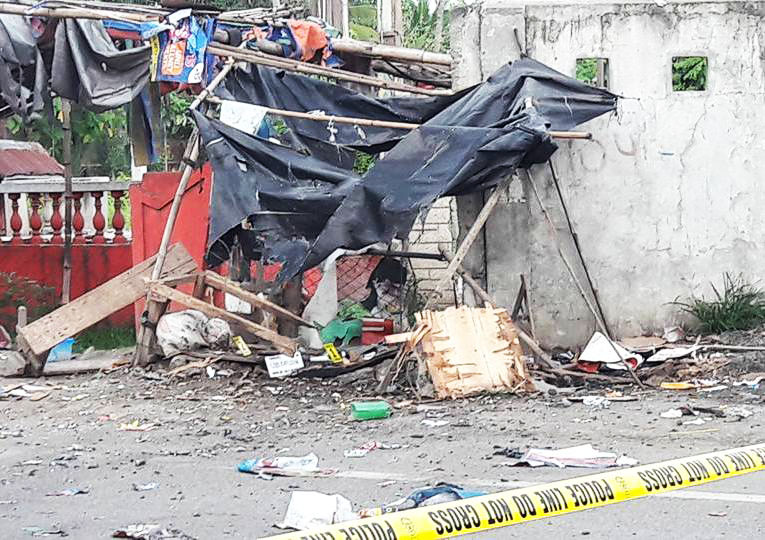 The powerful bomb explosion in Midsayap, North Cotabato early Saturday blew up a roadside barbecue stall and left a 16-year-old passerby wounded. Philstar.com/John Unson
NORTH COTABATO, Philippines - A passerby was seriously injured in an explosion that rocked the town proper of Midsayap before dawn Saturday, the sixth in central Mindanao this week.
The 16-year-old Hisnon Midpantao, who sustained shrapnel wounds in different parts of his body, was rushed to a hospital in Cotabato City by responding policemen and local rescue volunteers.
Midpantao was on a pedicab passing by Quezon Avenue in Midsayap, North Cotabato when an improvised explosive device (IED) planted underneath a barbecue grill in a makeshift roadside vending stall went off, sending metal fragments with jagged edges flying to different directions with force.
Superintendent Bernard Tayong, chief of the Midsayap municipal police, said there is a possibility that the roadside bomb was to be set off after dawn Saturday when traffic is heavy but exploded prematurely.
Police and Army intelligence agents are also looking into the possibility that Midpantao could be the courier of the IED.
There are suspicions on why in a wee hour he was at the scene of the explosion, which is too far away from where he resides.
Probers said Midpantao is from Sitio Tubak in Aleosan town also in the first district of North Cotabato province.
Tayong urged Midsayap residents to avoid speculating on the incident and give probers enough time to determine who could have placed the IED along a major artery in the municipality.
Thirteen were hurt in a powerful blast near Midsayap's Catholic cathedral during the last Christmas Eve, an incident that caused panic among local Muslim and Christian communities.
The latest IED attack in Midsayap was preceded by five bombings, from Sunday night until Friday morning, in different towns in nearby Maguindanao, a component province of the Autonomous Region in Muslim Mindanao.
Three enlisted members of the Philippine Army were hurt in two of the five bomb attacks in the province.
Sgt. Abraham Aduh and Private 1st Class Ernie Cabrera were hurt in a roadside bombing on Friday in Mamasapano, Maguindanao.
Aduh and Cabrera, who sustained shrapnel wounds in different parts of their bodies, are now both confined in a hospital. They both belong to the Army's 40th Infantry Battalion (IB).
Police investigators said the injured soldiers and companions were patrolling near the town center in Mamasapano when
an IED exploded along the road, apparently detonated from a distance using a mobile phone.
A brief encounter ensued between responding personnel of the 40th IB from nearby detachments and guerillas of the outlawed Bangsamoro Islamic Freedom Fighters (BIFF) positioned near the blast scene.
The BIFF bandits scampered to different directions when more reinforcements, backed by Simba armored vehicles, arrived to help drive them away.
Another soldier, Cpl. Michael Madazza of the Army's 38th IB, was wounded in a roadside IED explosion a day before the bombing in Mamasapano.
Madazza and his companions were on board a military KM 150 light truck passing by a stretch of the Cotabato-Isulan Highway in Barangay Labo-Labo in Datu Hoffer when a bomb was detonated along the thoroughfare by BIFF gunmen from a distance using a remote-controlled detonator
Army and police bomb experts have confirmed that the IEDs used in the attacks were identical with those the BIFF used in all of its recent bombings in the adjoining North Cotabato and Maguindanao provinces.
http://www.philstar.com/nation/2017/04/01/1686681/minor-hurt-north-cotabato-blast