From Rappler (Apr 10):
Retired cop, ex-soldier shot dead in Negros Occidental town
Police say 4 men arrived at a wake in Isabela town and shot 3 guests, all men, at close range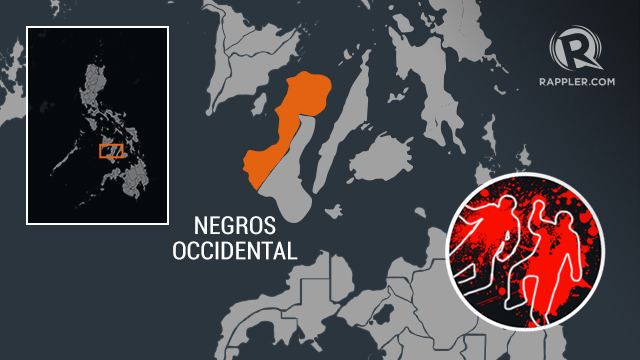 NEGROS OCCIDENTAL, Philippines – Three people, including a retired police officer and a former soldier, were shot dead while they attended a wake in Barangay Bulad in Isabela town here, Monday night, April 9.
Two other people, including a minor, were hit by stray bullets.
Killed were Alejandro Borres, 70, a retired policeman; Jose Joerito Amable, 50, a retired soldier; and Pedirico Bitgue, 30.
Thimoty Arron Achivar, 10, and Alquin Genterula Jr were wounded.
Chief Inspector Reuben Pajarito, town police chief, said 4 gunmen arrived at the wake and shot the 3 victims at close range. The suspects then fled on board two motorcycles.
The 3 victims were rushed to a hospital, but were declared dead upon arrival.
Recovered from the scene were fired bullets and ammunition of .9 mm and .45 caliber pistol.
The police have yet to determine the motive of the incident and the identities of the suspects.
Police are also looking into the possibility that the incident might have been perpetrated by suspected rebels.