From GMA News (Oct 10):
On assignment in Zambo with Marine snipers
They are feared in battle zones for their pinpoint accuracy. They live by the dictum "one shot, one kill." They possess an almost god-like power: a gentle squeeze of the trigger could spell the difference between someone's life and death.
In the fight against Moro National Liberation Front (MNLF) rebels in Zamboanga City, Marine snipers owned the night — thus the call sign "Night Hawks."
Equipped with night vision scopes, three sniper teams from the Philippine Marine Corps were deployed in the coastal village of Kasanyangan at the height of the three-week conflict in Zamboanga City. Kasanyangan was one of the villages occupied by the rebels loyal to founding MNLF chairman Nur Misuari.
Perched on rooftops of burned houses, snipers watched over a wide expanse of mangrove areas and fishponds where rebels waded to elude pursuing government forces. Marine sharpshooters are equipped with 5.56mm and 7.62mm M40A1 sniper rifles with day and night scopes.
From their concealed positions, they carefully picked their targets. The mere echo of the distinct sound of sniper fire can stop dozens in their tracks.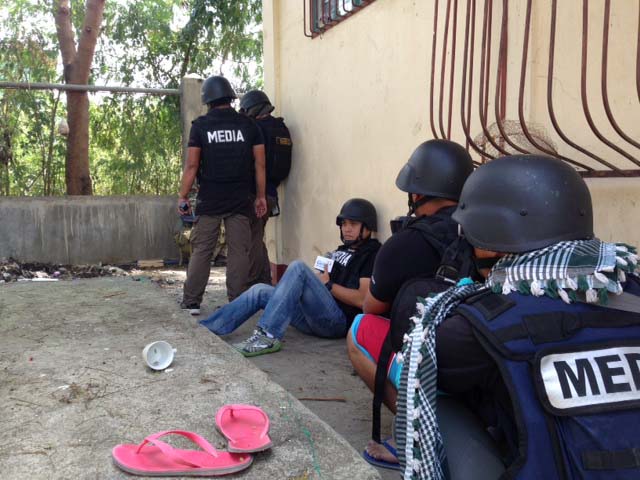 ) covering the three-week siege of Z
The author (center) covering the three-week siege of Zamboanga City by MNLF fighters


y by MNLF fighters
Receiving end of sniper fire

I became familiar with that terrifying sound when I was embedded with the Marines six years ago. In July 2007 in Basilan, during a Marine search-and-rescue operation for a kidnapped Italian priest, my team and I experienced what it's like to be at the receiving end of sniper fire.
Entering enemy territory in the remote town of Al-Barka, we were pinned down for hours as snipers believed to be from Moro Islamic Liberation Front (MILF) rebels shot at the Marines, us included. Fourteen Marines were killed in that encounter, 10 of them beheaded, some after being wounded and captured.
I was lying on the side of an unpaved road with my head down when a bullet hit a twig just inches from my position. Even up to this day, I still remember the words uttered by a Marine soldier next to me: "Sir, ikaw na pinuputukan."
Up to now, the memory of that particular incident still sends shivers down my spine, as it was by far my closest — and hopefully my last — brush with death.
But then again, in war coverage, anything can happen. Expect the unexpected. That's why I always say a little prayer before doing stories in conflict areas even though I'm not the religious type.
But back to the Zamboanga crisis.
In the 20-day campaign against MNLF fighters, the three sniper teams of Marine Battalion Landing Team 3 accounted for 24 confirmed kills, and all of them headshots.
In one of our sorties to the frontlines of Barangay Kasanyangan, I was introduced to an officer who happened to be one of the finest Marine snipers deployed in the area.
With a firm grip he shook my hand and said, "Jun, nag-meet na tayo dati. Ikaw yung gumawa ng feature sa aming mga Marine snipers sa Fort Bonifacio."
I answered in the affirmative. Years ago we did do a story on an elite group of Marine snipers. Many of the details already escape my memory, except one: the "confidence firing" they displayed in front of the camera.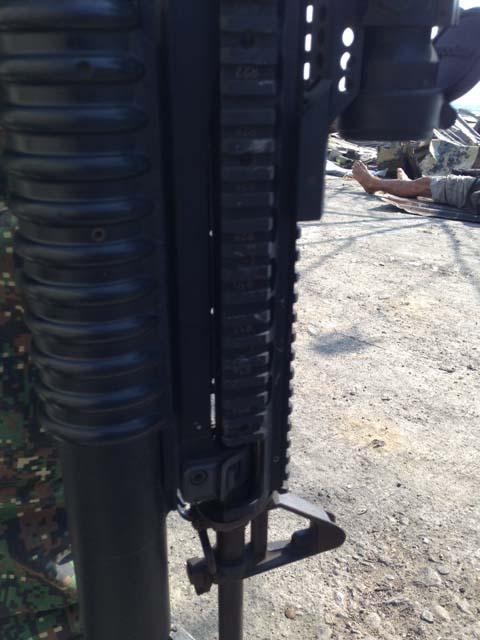 One shot, one kill: Sniper fire has become a dreaded sound in the battle zone.
A sniper team usually consists of a shooter and a spotter. In order to develop confidence between the two, at the final stage of their gruelling training, they will undergo "confidence firing."

My team and I watched in awe the hair-raising display of markmanship.

A shooter was lying on his stomach with his sniper rifle on two sacks of sand. And from about 50 meters away, his spotter was standing and holding a balloon by his side. No scopes, just iron sights, the shooter carefully aims for the balloon... the spotter closes his eyes. Everyone in the shooting range was holding their breath. The shooter pressed the trigger... bang! The balloon burst. Perfect hit.

Same procedure was repeated, with the roles reversed. The spotter became the shooter. A Marine instructor told us for a sniper team to be efficient there has to be full trust between the shooter and the spotter.

After our encounter at the firing range, we met again, only this time the sniping was for real: the targets weren't balloons but human beings.

The sniper I met was the highest-ranking officer on the three Marine sniper teams of MBLT3. For security reasons, we will not reveal his true identity, as well as the others who will be mentioned in this story.

With him was a young lieutenant. According to his comrades, the junior officer was responsible for a big number of sniper kills in the campaign against MNLF rebels. Armed with his night vision scope, he stalked his prey deep in the night.

Concealed in an elevated spot, he surveyed the field for movement by escaping rebels trying to reach mangrove areas.

"Silhouette lang ng mga kalaban ang nakikita namin sa ilalim ng liwanag ng buwan," he said.

His thick northern accent became even more evident as we talked about his exploits.

"Actually parang nag-aagawan kami. Tatlong teams kami, paunahan, parang pag tinamaan panalo ako. Uyyy score ko isa," he said.

The senior sniper was not as callous: "Para sa bayan ang ginagawa namin, kesa naman sa mga kasama pa namin sila maka-inflict ng damage. Hindi ito payabangan."

Good thing sniping operations were done during the night, one sniper said. "At least sa gabi hindi namin nakikita kung ano itsura kapag tinatamaan sila."

On the night of September 26, 2013, at around 8:30, the members of Night Hawks were monitoring a fishpond between Brgy Kasanyangan and Brgy Rio Hondo when they saw a group of about 15 men swimming across the pond.

They relayed a message through radio. Then after getting the go-signal to engage, the teams picked their targets, five for each of them. When the shooting started, one by one the MNLF rebels fell.

Come daybreak, the bodies were all over the place. As a matter of procedure, personal belongings like wallets were secured from the bodies. But one stood out from the rest because identification cards of MNLF commander Habier Malik—the man who led 400 or so MNLF fighters in the Zamboanga siege—were found on him.

The man was shot in the head, making facial identification impossible. Days later, the Philippine National Police, which conducted the forensic examination, declared that the man was not Malik. The conflict's most valuable target had eluded the Marine snipers, but many others had not.
http://www.gmanetwork.com/news/story/330335/news/specialreports/on-assignment-in-zambo-with-marine-snipers