From GMA News (Mar 10):
Kiram camp says Sultan brother still safe as Malaysia steps up assaults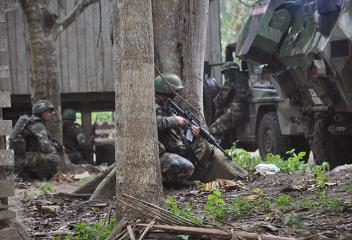 Malaysian soldiers search house-to-house at an area where Filipino gunmen are believed locked down in Tanduo village in Sabah on Friday. Malaysian forces expanded its hunt for armed Sulu invaders who dodged a military assault meant to crush them. Sulu Sultan Jamalul Kiram III has declared a unilateral ceasefire on Thursday and ordered his followers in Sabah to observe evasive and defensive postures. Malaysia has rejected the ceasefire offer. AFP/Malaysian Defense Ministry
The brother of Sulu Sultan Jamalul Kiram III remains safe amid intensified efforts by Malaysian forces to flush him and other followers out of their hiding places in Sabah, the sultan's camp said Sunday.
Princess Jacel Kiram, the sultan's daughter, said in a radio interview Raja Muda Agbimuddin Kiram is "safe" and in good condition.
"Nasa Lahad Datu siya, nakausap natin siya kahapon (He is still in Lahad Datu when we last talked to him Saturday) ... He's so safe," she said in an interview on dzBB radio.
She said God is protecting him because he has "a good heart."
Meanwhile, Malaysian forces intensified their hunt for the Kiram followers, according to a report on Malaysia's The Star online.
On Saturday, elite forces returned to Kampung Simunul to conduct a house-to-house search, as they swept rugged terrain between two coastal villages.
The report said the search by 100 personnel from the Special Branch, General Operations Force and Marine Police at Simunul started 7 a.m.
Simunul headman Panglima Ramli Sarahman said he instructed village security personnel to help the police locate houses that had been vacated.
Also on Saturday, Malaysian security forces intercepted three boats off Tanjung Batu and detained 27 men.
"Excluding the latest arrests, security forces have detained 79 people since the offensive against the armed Sulu group began on March 5," The Star online said.
http://www.gmanetwork.com/news/story/298585/news/nation/kiram-camp-says-sultan-brother-still-safe-as-malaysia-steps-up-assaults?ref=subsection_item