From the Philippine Star (Apr 16):
Soldiers make love, not war in football program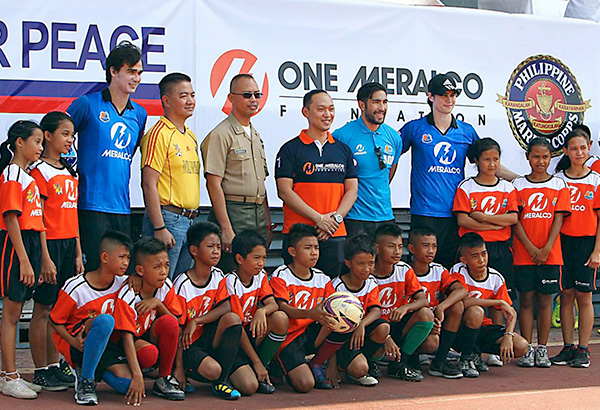 Present during the Football for Peace clinic at the University of Makati track and field oval are James Younghusband, Lt Col. Stephen Cabanlet, Jeffrey Tarayao and Phil Younghusband of Loyola, Meralco Sparks FC with children from Mindanao. JOEY MENDOZA
Soldiers from the Philippine Marine Corps and Philippine Army trade their guns for "indestructible footballs" to preach peace by teaching the beautiful game to kids in areas where they're deployed in, especially in "conflict areas" in Mindanao, through the "Football for Peace" program.
Now on its fourth year, the program held in partnership with Meralco's social development arm One Meralco Foundation (OMF) and football team Loyola Meralco Sparks aims to not only hone the skills but also
instill the values of sportsmanship, camaraderie, teamwork and discipline in the kids so they grow up as productive and peace-loving citizens.
"The footballs serve as our weapons in this 'new battlefield',"

said Lt. Col. Stephen Cabanlet, executive officer of third Marine Batallion and founder of Football for Peace.
"We the soldiers who are deployed in Mindanao will continue to keep our guns away and bring the balls to help the children attain peace and prosperity in their communities."
Yesterday, more than 200 kids from Sultan Kudarat, Misamis Oriental, Zamboanga, Tawi-Tawi, Basilan, Lanao del Norte, Cagayan de Oro and Palawan took part in a football clinic conducted by the Sparks, led by coach Simon McMenemy and stars Phil and James Younghusband at the University of Makati field.
One of the participants was an eight-year-old son of a Moro Islamic Liberation Front from Basilan.
"This speaks a lot since he entrusted his son to the Philippine military," said Cabanlet, adding that in Football for Peace, "we don't consider anyone an enemy, we're all Filipinos who want peace."
Jeffrey Tarayao, One Meralco Foundation president and chief corporate social responsibility officer, reiterated the company's commitment to youth development through sports.
"It's a great honor for us to be chosen by the Philippine Marine Corps as their partner in this inspiring initiative. Our shared belief of building the skills of young people to become responsible, productive and peace-loving citizens will hopefully lead us to a better country," said Tarayao.
The Younghusbands said they enjoyed the experience as much as the participants relished their interaction.
"Being here today reminded me what football was really about, it's about peace and enjoying the sport, having the inner child in you kicking the ball and having fun," said James.
http://www.philstar.com/sports/2015/04/16/1444426/soldiers-make-love-not-war-football-program