From the Philippine Star (Nov 5):
Sayyaf trots out alleged P250-M ransom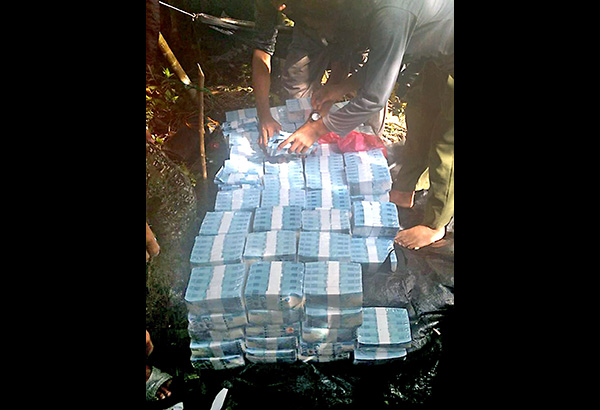 Video grab from Facebook shows stacks of P1,000 bills, which the Abu Sayyaf said represents the P250-million ransom paid in exchange for the release of two German hostages last month.
Abu Sayyaf spokesman Muamar Askali

has released a video clip showing what the bandits claim to be the P250-million ransom paid to them in exchange for the freedom of two German captives.
Askali, alias Abu Rami

, posted on Facebook last week a video clip of the stacks of cash in an effort to dispute reports that no ransom was paid when they freed German couple Stefan Viktor Okonek and Henrike Dielen last Oct. 17.
The video showed the Abu Sayyaf piling bundles of P1,000 bills in five stacks, neatly wrapped in transparent plastic, with each stack estimated to be P1 million. The money was placed on top of a large black plastic bag.
The video clip that ran for two minutes and 57 seconds also showed the militants standing around the money bag with a black flag of the Islamic State in the background.
Some of the militants were overheard counting in the Tausug dialect.
"Al-hamdu-lillah (all praise and thanks to God), we counter the Philippine government that they said that no ransom policy. And now for the sake of the Shariyah Islamiyah, the no ramsom policy will be lost at this moment," Askali said in the video clip.
Askali also showed a picture of one of the blue traveling bags used in concealing the ransom money.
Rear Admiral Reynaldo Yoma, commander of the Joint Task Group Basulta, the combined unit in charge of the offensive against the Abu Sayyaf, refused to comment on the ransom money reportedly paid to the Abu Sayyaf.
Yoma said government troops have been relentlessly pursuing the Abu Sayyaf groups in Basilan and Sulu following the order of President Aquino to get the Abu Sayyaf gunmen behind the ambush and killing of six soldiers in Basilan.
"We will pursue relentless operations but not necessarily causing collateral damage," Yoma said.
"We are doing our best to catch up with the Abu Sayyaf group and that they will not be able to plan other terroristic act such as what happened two days ago. That is what we are intending to do. That's the directive from the President so we will see to it that we will relentlessly pursue the Abu Sayyaf group," Yoma added.