From GMA News (Nov 3):
2 soldiers killed in ambush by suspected NPA rebels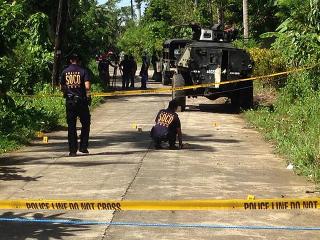 An armored personnel carrier secures the roadside area where two off-duty soldiers were ambushed by suspected New People's Army rebels in Purok 5 Anislag, Daraga, Albay on Monday, November 3. At least 20 spent M16 shells were recovered by PNP investigators at the crime scene. The victims were riding a motorcycle when they were killed. Allan Gatus
Two soldiers were gunned down in an ambush by suspected communist

New People's Army rebels in Daraga town in Albay province

early Monday.
Initial police findings showed the insurgents fired at the soldiers

at a wooded area in Purok 5 in Barangay Anislag

about 7 a.m., radio dzBB's Allan Gatus reported.
Killed were Philippine Army Private First Class soldiers Dario Mahawis and Jerome Sambrona, according to Sr. Insp. Maria Luisa Calubaquib, public information officer of the Bicol regional office of the Philippine National Police.
Citing initial reports reaching Albay police chief Senior Superintendent Marlo Meneses,
the report said the two victims were in civilian clothes and were returning to their unit after buying items from the market.
They were aboard a red HRV-type motorcycle when they were ambushed.
Maj. Angelo Guzman, public affairs officer of the Armed Forces of the Philippines Southern Luzon Command (SOLCOM), however said the two soldiers were on their way to an evacuation center at Bgy. Anislag at the time to check the security situation there, based on information from Lt. Col. Perfecto Peñaredondo, commanding officer of the 2nd Infantry Battalion in Albay.
Guzman said a squad was sent to the area after the ambush and the soldiers encountered at least five NPAs at around 7:45 a.m.
A firefight occurred, lasting for five minutes, before the rebels dispersed in different directions, Guzman said.
Col. Raul Farnacio, commander of the 901st Brigade in Albay

, directed the deployment of other units to track down the rebels, Guzman said.
The SOLCOM condoled with the family of the two soldiers killed.
"It is so unfortunate to note that soldiers rendering support to humanitarian assistance are being targeted by the NPA. Despite the attack, SOLCOM will not abandon our humanitarian assistance in Albay. SOLCOM will continue our focused military operations for a more peaceful region," Guzman said.
Photos tweeted by dzBB's Gatus showed the area where the incident occurred is now being cleared by grovernment troops.