Quwa Defense News and Analysis Group (Oct 24):
Hyundai offers glimpse of upcoming Philippine Navy frigates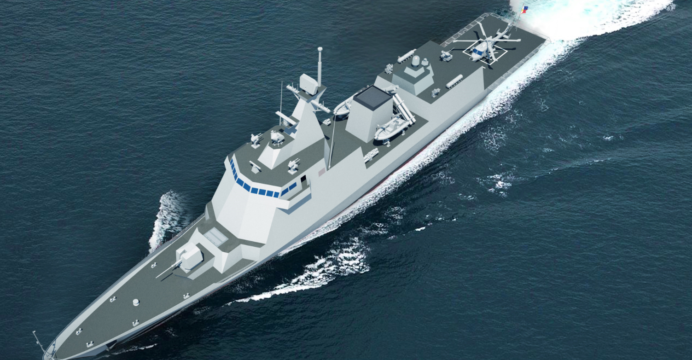 Illustration of the forthcoming Philippine Navy frigate. Photo credit: Hyundai Heavy Industries
The South Korean shipbuilder Hyundai Heavy Industries (HHI) has offered a glimpse into the two frigates it has been contracted to produce for the Philippine Navy.
In the beginning of September, HHI was awarded the $337 million U.S. deal to construct two multi-mission frigates for Manilla. HHI's proposal was based on its HDF-3000 design, which in turn was derived from the Republic of Korea Navy (ROKN)'s Incheon-class frigate.
HHI was selected in favour of India's Garden Reach Shipbuilders & Engineers Ltd. (GRSE), which was the rival frontrunner for the Philippine Navy's requirement.
As per HHI's
press release
, it seems that the frigates will have a displacement of 2,600-tons and will incorporate hull design elements from the much heavier HDF-3500 platform. In other words, Manilla's new frigates will essentially be lighter versions of the ROKN FFX-3.
The 107-metre long frigates will also be configured for anti-ship, anti-submarine, and anti-air warfare, and will benefit from "the latest combat management system" alongside an electronic warfare suite. These frigates will can reach a maximum speed of 25 knots and a range 4,500 nautical miles (at a cruising speed of 15 knots). The hull will be built to operate in Sea State 5 conditions.
Notes & Comments:
It appears that the Philippine Navy contract is inclusive of the hulls as well as the onboard electronics and munitions suite. At $169 million a ship, the Philippines have gotten a competitive package from HHI. For comparison, Egypt ordered four DCNS Gowind 2500 corvettes (which have the comparable displacement of 2,500-tons) for €1 billion in 2014, which would translate to $345 million per ship at that time.
Further observation of the HHI contract will be necessary to determine if the price does include the sensor and weapons suite. However, even if the onboard suite has not been finalized, it is almost certain that the unit-cost of the HHI frigate will be markedly lower than the Gowind 2500.
This is an important point to observe as it lends credence to the notion that the bulk of naval shipbuilding is
shifting away from Western Europe
, which has traditionally dominated the space.
Cost advantages, which are accrued from a lower cost of labour and material alongside superior quantitative scale (in South Korea and India), are the primary advantages available to emergent shipbuilders.
This enables newer shipbuilders to possess stronger competitive footing in cost-sensitive markets, which could potentially grow as general accessibility to modern naval solutions increases. One may
refer to the example
of the Equatorial Guinea Navy inducting a Ukrainian-designed and Bulgarian-built multi-mission frigate in 2014. Alternatively, markets once considered key for Western European shipbuilders may pivot to lower-cost competitors.
Regarding the Philippines. It appears that the South Korean defence industry has formed a strong platform for long-term growth within that market. With the key naval and air warfare contracts firmly in the hands of HHI and Korea Aerospace Industries (KAI), respectively, entrants from rival industries (e.g. India) may find access to the Philippines market increasingly difficult, at least in some respects (most certainly in the area of naval warships and combat aircraft).
http://quwa.org/2016/10/24/hyundai-offers-glimpse-upcoming-philippine-navy-frigates/