From Rappler (Oct 25):
Duterte wants to scrap EDCA
'We have the EDCA. Well, forget it,' the President says in a speech before departing for Japan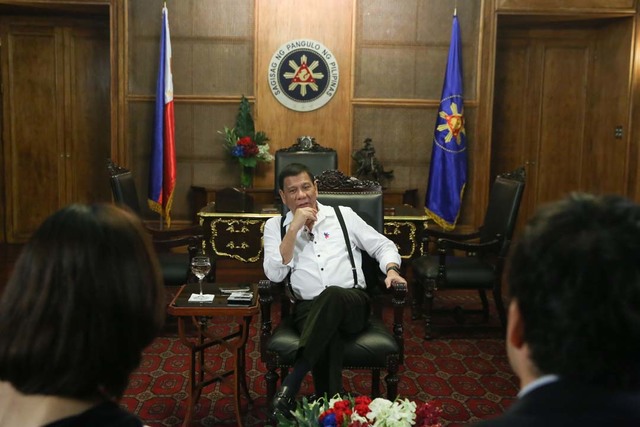 'INDEPENDENCE.' President Rodrigo Duterte spares time to accommodate queries from members of Japanese media in Malacñang on October 24. KING RODRIGUEZ/ Presidential Photo
Once again shrouding military agreements with the United States in uncertainty, President Rodrigo Duterte said he doesn't want to see soldiers of any foreign power in the Philippines.
"You have the EDCA (Enhanced Defense Cooperation Agreement). Well, forget it. If I stay here long enough, one day that EDCA will, if it's an executive agreement then I will just [makes sweeping away gesture],"
he said on Tuesday, October 25 at the Ninoy Aquino International Airport (NAIA) Terminal 2.
He held a press conference right before departing for his official visit to Japan.
Without finishing his sentence about EDCA, he said,

"I do not want to see any military man of any other nation except for the Philippine soldier."
"That's the long and short of it. I want an independent policy na hindi pasunod-sunod (that doesn't follow anyone)," he added.
In a previous speech on October 2, the President already said he will have
EDCA reviewed
.
Signed in 2014 by the Aquino administration and the US government,
EDCA
gives US troops, planes, and ships increased rotational presence in Philippine military bases, and allows Washington to build facilities to store fuel and equipment here.
Proponents said the deal aims to help build the
capacity of the Philippine military
, one of the weakest in Asia, especially in the face of challenges posed by the country's dispute with China in the West Philippine Sea (South China Sea).
But critics disagreed, saying the agreement violated the Constitution since its provisions should have been in the form of a treaty that needed the Senate's concurrence.
On January 12, 2016, however, the High Tribunal upheld EDCA's constitutionality and took the position of Malacañang that it did not need the approval of the Senate. Prior to the verdict, at least
15 senators
voted to pass a resolution declaring that the executive agreement was a treaty that needed Senate approval.
Earlier in his Tuesday speech before leaving for Tokyo, Duterte also said he is not seeking any Visiting Forces Agreement with Japan although he is set to discuss defense cooperation with the powerful Asian country, "particularly in maritime security."
Japan donated 10 coast guard vessels to the Philippines. The first, BRP Tubbataha, was turned over recently to the Philippine Coast Guard.
A day before he left for Japan, 3 Japanese navy ships arrived in Manila bringing navy officers set to meet with their Filipino counterparts.