From the Philippine Star (Jun 17):
Royal Brunei Armed Forces execs arrive in Maguindanao for Ramadan visit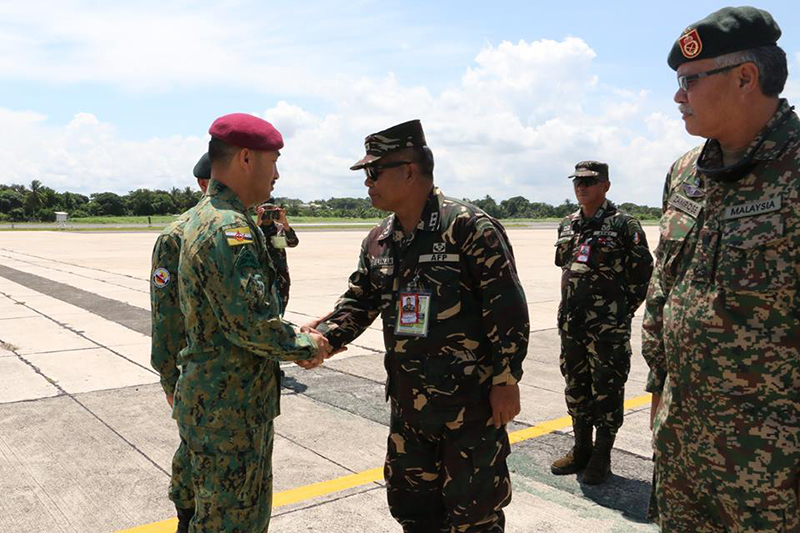 Major Gen. Edmundo Pangilinan of the Philippine Army's 6th Infantry Division, huddle with visiting officials of the Royal Brunei Armed Forces. Philstar.com/John Unson
MAGUINDANAO, Philippines - Top officials of the Royal Brunei Armed Forces on Thursday paid their compatriot-peacekeepers in Central Mindanao a "Ramadan visit" and offered dates as gift.
It is a sunnah (tradition) among Muslims to feast on dates after a day-long fast during the month-long Ramadhan.
The visiting dignitaries, Generals Pehin Datu Pekerma Jaya and Dato Paduka Seri Mohamad Tawih bin Abdullah and Police Commissioner Dato Seri Pahlawan Shah Al Islam, were personally welcomed at the Maguindanao Airport in Datu Odin Sinsuat town by Major Gen. Edmundo Pangilinan of the Philippine Army's 6th Infantry Division.
Pangilinan led the traditional planeside military honors for them as they alighted from the aircraft that flew them from Brunei to the Maguindanao Airport.
Senior military officials in Brunei regularly visit their compatriots helping enforce the government-MILF ceasefire during the Ramadan.
Muslims abstain from food and drink at daytime as a religious obligation and as atonement for wrongdoings when they observe the Ramadan fasting season, which lasts for one lunar cycle, about 28 to 29 days.
They also focus on charitable acts and reconcile with adversaries during the Ramadan, which is for them a "holy month."
Brunei has a contingent in the Malaysian-led International Monitoring Team (IMT), which is helping oversee since 2004 the ceasefire between the government and the Moro Islamic Liberation Front.
Soldiers from Brunei are helping observe the enforcement of the interim truce in all of the 36 towns in Maguindanao province, through their office in Cotabato City.
The IMT is comprised of soldiers and policemen from Malaysia, Brunei and Indonesia and non-uniformed conflict resolution experts from Japan, Norway and the European Union.
http://www.philstar.com/nation/2016/06/17/1593919/royal-brunei-armed-forces-execs-arrive-maguindanao-ramadan-visit