From Rappler (Dec 27):
NPA rebels hopeful about peace process but…
Communist guerrillas in Northern Mindanao celebrate the CPP's 48th anniversary in Medina, Misamis Oriental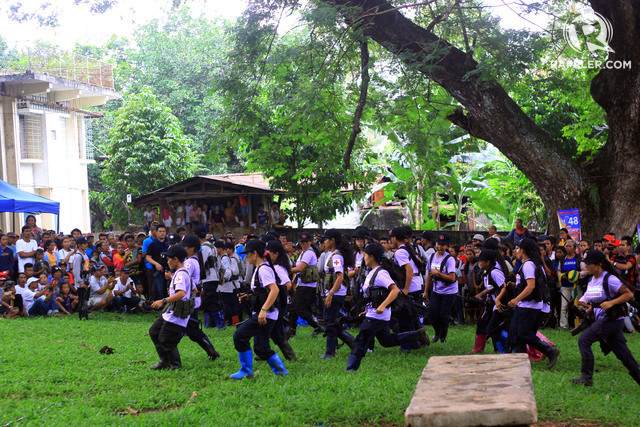 WOMEN FIGHTERS. A platoon of rebel women of the New People's Army in Northern Mindanao scramble for formation in Medina, Misamis Oriental on December 26, 2016. Photo by Bobby Lagsa/Rappler
Nearly 100 armed fighters of the New People's Army (NPA) marched from the mountains to Barangay Bag-o in Medina, Misamis Oriental, to join families and supporters in their celebration of the 48th anniversary of the Communist Party of the Philippines (CPP) on Monday, December 26.
About 5,000 supporters and sympathizers joined the celebration, waving red flags as they watched activists perform on a makeshift stage and hold a peace forum organized by bishops, priests, and nuns from various religious orders.
Alfredo "Ka Paris" Mapano, one of the released political prisoners who serves as adviser of the NDF in the talks, gave the rebels an overview of the peace process, assuring them that the contentious negotiations on the Comprehensive Agreement on Socio-economic Reform, or Caser, are almost done and will again be tackled in January 2017, when the talks resume in Rome.
"We want the peace talks to [succeed], but it's not easy," Mapano said. Formal negotiations began in August 2016.
Betrayal
NPA leader Nicolas "Ka Sagi" Marino pointed out that the President promised the release of all 434 political prisoners. His failure to fulfill this promise so far "is a betrayal to the people," he said.
Marino declared that the NPA units in Mindanao grew the most in the last few years – 16% – of all NPA forces in the Philippines. "Mindanao has the biggest number of forces, equal to the combined Luzon and Visayas fighters," Marino said.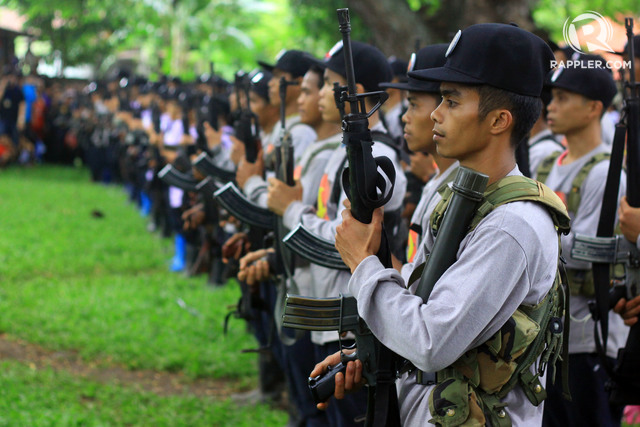 NORTHERN MINDANAO FORCE. NPA guerrillas from Northern Mindanao gather in Medina, Misamis Oriental on December 26, 2016. Photo by Bobby Lagsa/Rappler
The military estimated that there are close to 4,000 NPA members in Mindanao, but said only a little more than half of them are armed.
Bishop Felixberto Calang of the Iglesia Filipina Independente said they're banking on the political capital of President Rodrigo Duterte as the key to a just and lasting peace.
But he lamented Duterte's "tactless remarks", saying they're "worrisome".
Calang urged both parties to sign the bilateral ceasefire agreement, which has been pending for months now due to the deadlock on the release of prisoners.
The CPP on Monday, December 26, said the
rebels are willing to sign
the deal, provided it will only take effect once the remaining prisoners are released in January.
–