From Rappler (Jun 30):
Miriam sends anti-EDCA draft resolution to Supreme Court
Senator Miriam Santiago has collected the signatures of the majority of senators but has yet to sponsor the resolution before the Senate plenary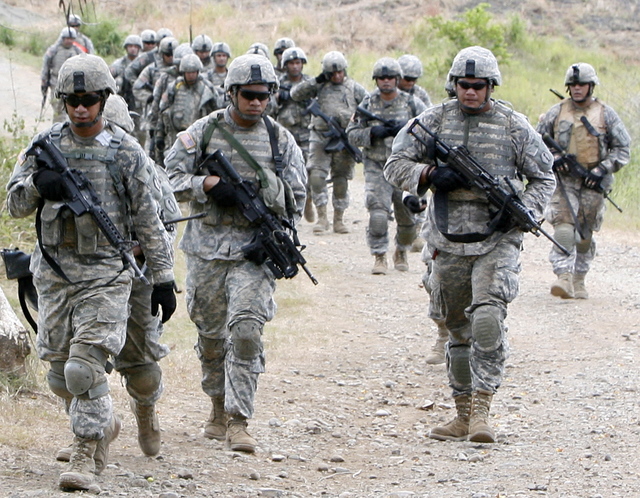 ROADBLOCK. Majority of senators say EDCA needs Senate ratification. EPA/Amiel Meneses
Senator Miriam Defensor Santiago submitted to the Supreme Court (SC) on Tuesday, June 30, a draft resolution expressing a "strong sense" of the Senate that the military-to-military agreement between the Philippines and the US is "invalid" without the approval of the Senate.
"This is to respectfully enclose, for the presumable information of the Supreme Court, the copy of Senate Resolution No. 1414," a statetment from Santiago said, quoting her letter to Chief Justice Maria Lourdes Sereno. (Read about the arguments in the the draft resolution

here

.)
The draft resolution reads: "The Constitution is clear and categorical that Senate concurrence is absolutely necessary for the validity and effectivity of any treaty, particularly any treaty that promotes for foreign military bases, troops, and facilities, such as the EDCA."
Santiago
has collected the signatures of 13 senators, a majority of the Senate. But she has yet to sponsor the resolution before the Senate plenary. She said she will do so when session resumes on July 27.
Santiago
is the chairman of the Senate committee on foreign relations.
The High Court is expected to soon issue a ruling on petitions questioning the constitutionality of the Enhanced Defense Cooperation Agreement (EDCA), The deal was signed last year by Defense Secretary Voltaire Gazmin and US ambassador to the Philippines Philip Goldberg. (READ:

A year later, SC still sitting on EDCA

)
During the oral arguments, the possibility of

transmitting EDCA to the Senate

was discussed. Solicitor General Florin Hilbay opposed this, arguing that it would diminish the powers of the Office of the President.
EDCA seeks to expand US military presence in the Philipines by allowing them to build facilities inside Philippine bases and preposition their defense assets there.
Malacañang maintained it is only an executive agreement, and that its provisions are within the powers of the president to approve or delegate to the defense chief.
But critics argued that EDCA is de facto basing and thus unconstitutional without Senate approval.
The 13 senators who signed the resolution are Santiago, Juan Edgardo Angara, Pia Cayetano, Joseph Victor Ejercito, Jinggoy Estrada, Teofisto Guingona III, Manuel Lapid, Ferdinand Marcos Jr, Sergio Osmeña III, Aquilino Pimentel III, Ralph Recto, Ramon Revilla Jr, and Cynthia Villar.
There used to be tens of thousands of US troops in the Philippines until a historic 1991 Senate vote evicted them from the Philippines. They were able to return in smaller numbers through the Visiting Forces Agreement (VFA), a treaty signed by both countries in 1998.
[Video reports]
http://www.rappler.com/nation/97913-miriam-sends-edca-resolution-supreme-court