From the Philippine Star (May 22):
Duterte renames 'Benham Rise' to 'Philippine Rise'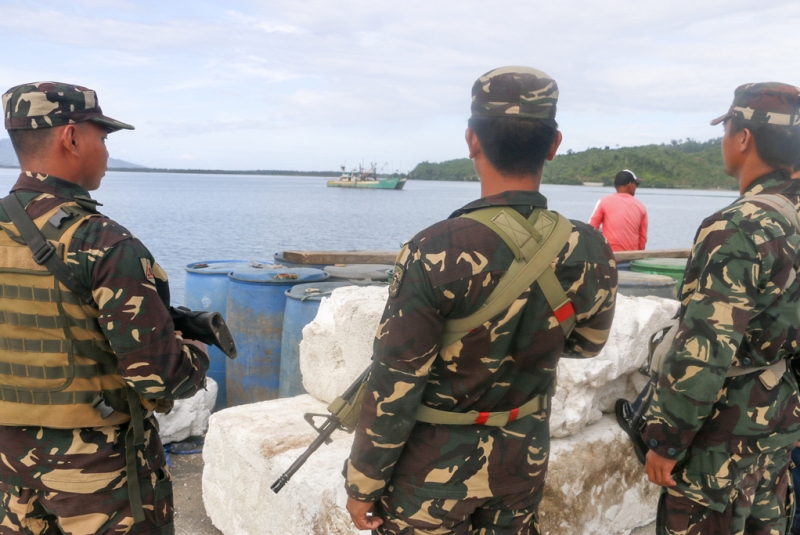 Filipino troops look over Benham Rise, now called Philippine Rise, which can be seen from a military camp in Casiguran, Aurora. Situated about 250 kilometers east of Dinapigue, Isabela, Benham Rise has untapped natural resources and is said to be wider than Luzon, Samar and Leyte combined. Philstar.com/Efigenio Toledo IV
President Rodrigo Duterte has signed Executive Order 25, officially changing the name of Benham Rise to Philippine Rise.
In
his order signed May 16, Duterte stressed that Benham Rise is subject to the sovereign rights and jurisdiction of the Philippines pursuant to provisions of the Constitution, national legislation, the United Nations Convention on the Law of the Sea and applicable international law.
EO 25 orders the National Mapping and Resource Information Authority to indicate the name "Philippine Rise" instead of "Benham Rise" in official maps and charts of the Philippines that include the region.
Benham Rise, an underwater plateau which has an area approximately 24 million hectares in size, is located within the country's exclusive economic zone.
On April 12, 2012, the Commission on the Limits of the Continental Shelf approved the submission of the Philippines with respect to the limits of its continental shelf in the area.
This enables the Philippines to carry out exploration and development of natural resources in the region.
Defense Secretary Delfin Lorenzana earlier confirmed that Chinese survey ships have conducted oceanographic research in the region, pushing the Department of Foreign Affairs to seek clarification from the Chinese Embassy in Manila.
Lorenzana said that Chinese presence in the area was "very worrying" and issued a directive to the Philippine Navy to drive away Chinese ship seen in Benham Rise.
The Chinese Foreign Ministry then claimed that the
Philippines cannot claim Benham Rise
as its own despite the approval of the UN commission.
A few days later, Beijing retracted its statement and said that it
fully respects the Philippines' rights
over the continental shelf in Benham Rise.
In 1933, American admiral and geologist Andrew Benham discovered the undersea region.situated 250 kilometers east of Dinapigue, Isabela.