From the Philippine Star (Jun 28):
Nine more Maute hostages rescued in Marawi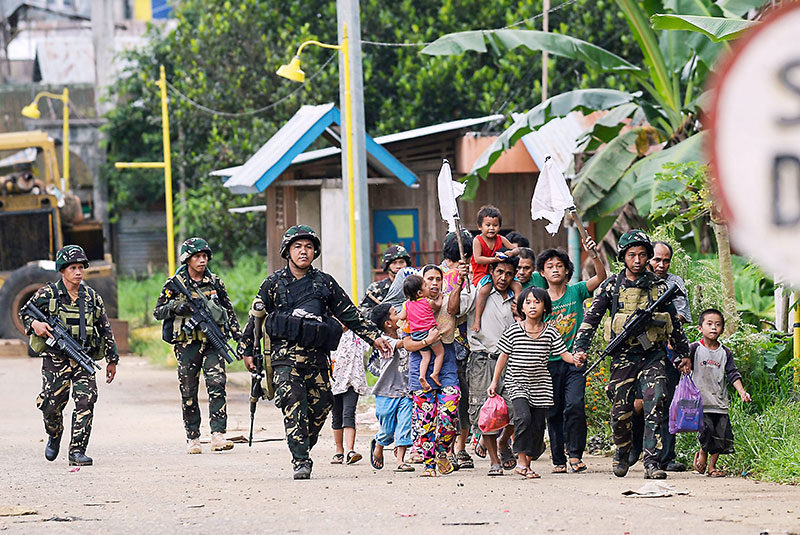 At least nine hostages held by the Islamic State-inspired Maute and Abu Sayyaf groups were rescued Tuesday from Marawi City.
Lt. Col. Jo-Ar Herrera, spokesman of Joint Task Force Marawi, said the nine rescued confirmed that captive Catholic priest Teresito 'Chito' Suganob is alive and is among the hostages.
"This was the second time rescued civilian hostages confirmed Fr. Suganob is alive," Herrera said.
At least seven civilians who were rescued during the 'humanitarian pause' earlier this week also yielded similar information about Suganob.
Herrera said the ISIS-inspired terrorists are still holding around 120 hostages.
The hostages rescued on Tuesday were identified as:
Ariel Ansaw
Ronie Albacete
Lando Albacete
Dilbert Macatulag
Michael Ongos
Mario Manggubat
Jimboy Guinsayao
Bryan Catipay
Algin Generalao
He said the victims were given immediate medical assistance and went through testing for gunpowder residues.
The military official said government forces were exhausting measures to recover the civilian hostages from the Maute group.