From Rappler (Jun 29, 2019):
LOOK: U.S. Navy combat ship USS Montgomery makes Davao City port visit
USS Montgomery commanding officer Commander Edward Rosso says the visit demonstrates America's 'commitment to maritime security in the region'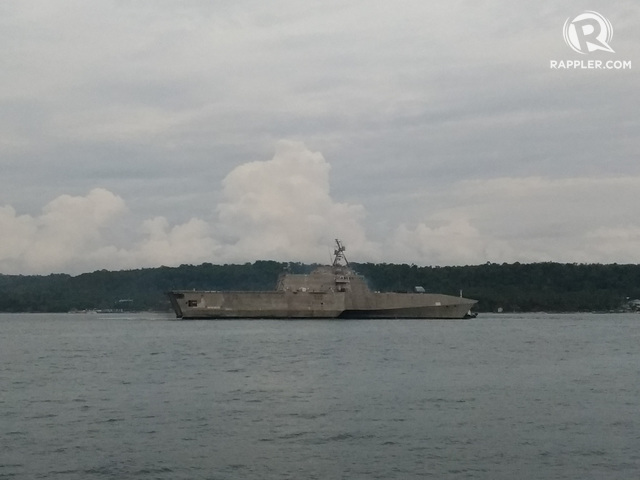 DAVAO VISIT. The USS Montgomery, an Independence-class littoral combat ship of the United States Navy, arrives in Davao City afternoon of June 29 for a visit. Rappler photo
The United States Navy's combat ship USS Montgomery (LCS 8) arrived in Davao City on Saturday, June 29, for a port visit in line with its first deployment.

The USS Montgomery's commanding officer (Blue Crew) Commander Edward Rosso described the visit to the Philippines – one of the US' longest allies in the Indo-Pacific region – as an "honor."

Rosso said the visit would allow the US to "demonstrate our commitment to maritime security in the region, while strengthening relationships with our friends, partners and allies."
While the USS Montgomery is stationed at the port in Davao City, it will receive military and civic leaders from the Philippines.
More on the ship: The USS Montgomery is an "independence-class littoral combat ship,"which is designed to be "fast, agile and mission-focused"
According to the US Navy, the ship is also designed to "operate in near-shore environments and employ modular mission packages that can be configured for surface warfare, mine countermeasures or anti-submarine warfare."
Strengthening ties: Commander of logistics group Western Pacific Rear Admiral Joey Tynch likewise said the visit was in line with strengthening partnership and cooperation between the Philippines and US.
"Our navies, just like our nations, have a long history of cooperation and partnership based on mutual trust, respect and decades of friendship," Tynch said.
"Every port visit and exercise we complete together continues to strengthen maritime security and regional stability," he added.
The USS Montgomery's port visit comes weeks after a
Philippine boat was sunk and abandoned by a Chinese vessel
near Recto (Reed) Bank in the West Philippine Sea. Recto Bank, which is known for its rich underwater resources belongs to the Philippines and is being coveted by China.
The
US earlier hit the collision
, saying it rejected coercion and intimidation to assert maritime claims.
"Our position on the South China Sea is clear: We support lawful uses of the sea, respect for international law, unimpeded lawful commerce, and peace and stability," the US statement said.
https://www.rappler.com/nation/234230-us-navy-combat-ship-uss-montgomery-davao-city-port-visit-june-2019