From the Philippine Star (Jun 24):
US stand on South China Sea remains unchanged amid China dialogue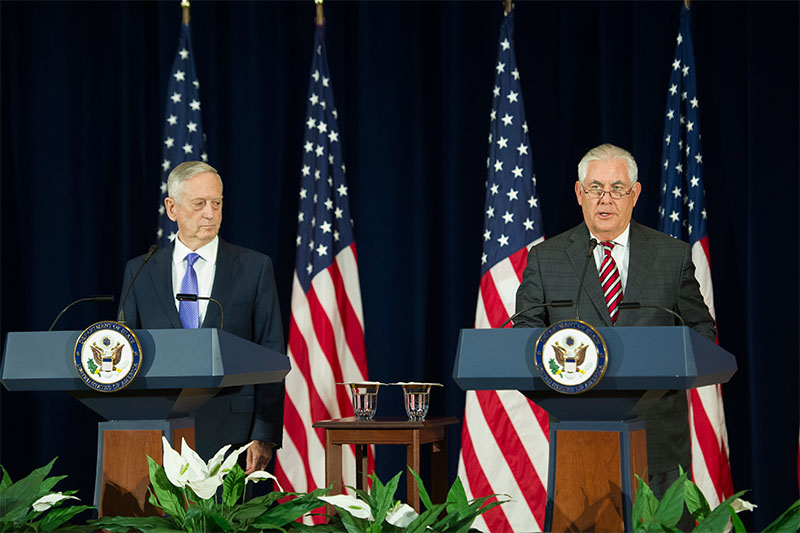 Secretary of State Rex Tillerson, right, and Secretary of Defense Jim Mattis appear at news conference following a Diplomatic and Security Dialogue Meeting with a Chinese delegation including State Counselor Yang Jiechi and military Chief of Joint Staff Fang Fenghui, at the State Department in Washington, Wednesday, June 21, 2017. AP/Cliff Owen
US Secretary of State Rex Tillerson and Secretary of Defense James Mattis made it clear to Beijing that Washington's position on the South China Sea remains unchanged during a security dialogue between the two countries.
Tillerson and Mattis hosted Chinese foreign policy chief Yang Jiechi and Gen. Fang Fenghui, chief of the People's Liberation Army's joint staff department, for the first session of the US-China Diplomatic and Security Dialogue in Washington.
Tillerson said he and Mattis had a frank exchange of views on the disputed waters with the Chinese leaders.
"We oppose changes to the status quo of the past through the militarization of outposts in the South China Sea and excessive maritime claims unsupported by international law, and we uphold the freedom of navigation and overflight,"
Tillerson said in a press conference.
Mattis said that they also discussed the importance of freedom of navigation, peaceful resolution of maritime disputes and ways to decrease tension in the South China Sea.
The Pentagon chief stressed that the US will continue to fly, sail and operate wherever international law allows.
"On South China Sea, this is a dialogue where we identify areas where we can work together and to understand those areas where we have, I would call them disconnects, where are our understanding of the problem is very different from theirs,"
Mattis said.
Mattis added that Beijing and Washington will continue to work on "closing gaps" in their understanding in the future.
"But I would say for right now that's the whole purpose for the dialogue that we held here today, and we will be holding more in the future," Mattis said.
A few weeks ago,
Tillerson accused China of using its economic power
to evade issues such as the South China Sea dispute.
"We desire productive relationships, but we cannot allow China to use its economic power to buy its way out of other problems, whether its militarizing islands in the South China Sea or failing to put appropriate pressure on North Korea,"
US Secretary of State Rex Tillerson said during his visit to Sydney.
Irked by Tillerson's remarks,
the Chinese Foreign Ministry insisted that China and Southeast Asian countries have been making efforts to uphold peace and stability in the contested waters.