From the Philippine Star (Jun 23):
Authorities verifying presence of 89 foreign terrorists in Mindanao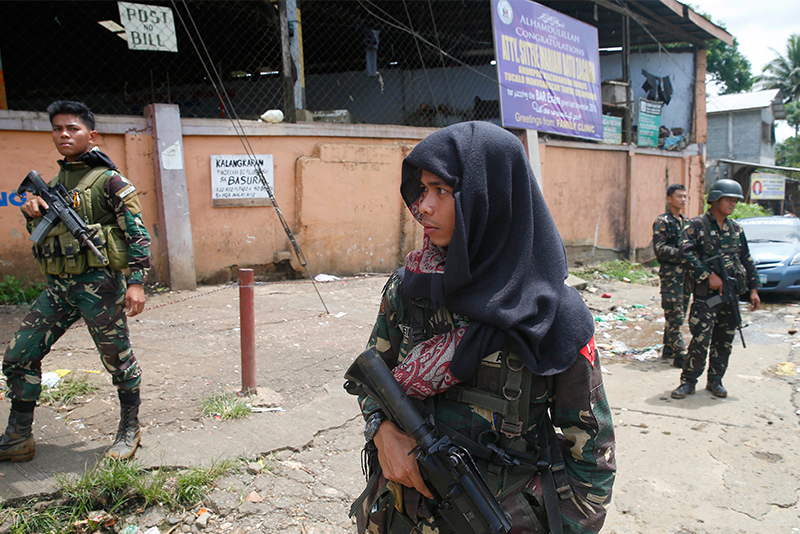 Government troops patrol the streets of Marawi city three days after Muslim militants lay siege in the city in southern Philippines Thursday, May 25, 2017. AP/Bullit Marquez
Security forces are verifying information about the alleged presence of 89 suspected foreign terrorists in Mindanao, Malacañang said on Saturday.
Presidential Spokesman Ernesto Abella said it is possible that the foreigners entered the Philippines through the southern backdoor, where the point of entry is Mindanao via Indonesia or Malaysia.
"Authorities are still validating the report that 89 suspected foreign fighters are in Mindanao,"
Abella said in a statement.
"This is the purpose why we are making a collective effort against terrorism and violent extremism through a trilateral cooperation with Indonesia and Malaysia," he added.
Abella noted that the three countries have agreed "to work together to jointly develop and implement counter-terrorism measures and strategies to prevent future terrorist attacks in the region."
A police intelligence report obtained by Kyodo News said at least 89 "suspected foreign fighters" are in various parts of Mindanao including Marawi City, the area attacked by Islamic State-inspired Maute terrorists last May 23.
According to the report, 28 of the suspected terrorists are Indonesians, 26 are Pakistanis, 21 are Malaysians, four are Arabs, three are Bangladeshis, one is a Singaporean and one is an Indian-Singaporean. The nationalities of the other five foreigners were not identified.
Kyodo News said the information was relayed by Philippine officials during a meeting with Indonesian and Malaysian counterparts in Manila last Thursday.
Abella said the military is also validating the report that Mahmud bin Ahmad, a Malaysian who helped finance the attacks in Marawi, died from wounds he sustained during the early days of the crisis.
"We have been told that the military has information of the spot where he was buried and government troops are now trying to locate it and recover the remains. Once done, only then can we make an official confirmation,"
he said.
At least eight of the terrorists killed during encounters in Marawi were foreign fighters.
Of the slain foreign militants, two were Saudis, two were Malaysians, two were Indonesians, one was a Yemeni and one was a Chechen, according to Defense Secretary Delfin Lorenzana.
On Thursday, Armed Forces Eastern Mindanao Command deputy chief Brig. Gen. Gilbert Gapay revealed that there are at least 40 foreign terrorists in the Philippines. He said security forces already know the names of the jihadists which include Malaysians, Indonesians, Arabs and Pakistanis.
A total of 280 terrorists and 69 government troopers since clashes in Marawi started last May 23.