From the Philippine Star (Jun 24):
Palace: NPA attacks cast doubt on rebels' sincerity to peace talks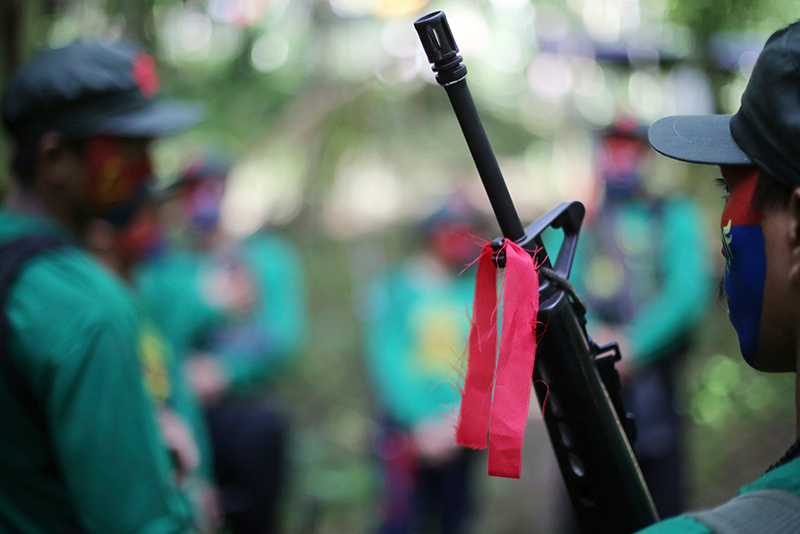 In this Nov. 23, 2016 photo, a red ribbon is tied to a firearm of a New People's Army guerrilla at a rebel encampment tucked in the harsh wilderness of the Sierra Madre mountains. AP/Aaron Favila
Malacañang is disturbed by the recent attacks of the New People's Army in Mindanao, saying they cast doubts on the rebels' sincerity to the peace process.
Presidential Spokesman Ernesto Abella said the offensives "disrupt the conducive and enabling environment indispensable in peace making and peace building."
"Several recent serious offensives in Mindanao and elsewhere in the country allegedly committed by the CPP-NPA-NDFP (Communist Party of the Philippines – New People's Army – National Democratic Front of the Philippines) forces further fueled the public's doubts on whether it is still worthwhile to continue the peace negotiations with them,"
Abella said in a statement on Saturday.
"We are disturbed by the recent NPA attacks considering that their leaders in Europe issued a statement condemning the incident in Marawi, even offering to refrain from undertaking offensive operations in Mindanao to enable our government forces to deal with focus on the rebellion still happening,"
he added.
Abella said the government would undertake "corresponding and appropriate steps" to deal decisively with the development.
The government has halted the fifth round of negotiations with the NDFP after the CPP had directed the NPA to intensify offensives against government forces implementing the martial law in Mindanao.
Last week, the NDF asked the NPA to refrain from attacking government forces in Mindanao so they can focus on clearing Marawi City of Maute terrorists. The government reciprocated the declaration, welcoming it as a positive development for the peace talks.
But hours after the government reciprocated the NDF's gesture, about 50 NPA members raided the Maasin Municipal Police Station in Iloilo City and took away firearms, a laptop, a base radio, cash and jewelry.
While the attack did not happen in Mindanao, the government labeled it as "opportunistic."
Army troops and NPA members also figured in a series of clashes in the Davao region last week.
The military claimed that rebels fired upon members of the 67th Infantry Battalion who were conducting patrols in Cateel, Davao Oriental last June 17. The attack led to an hour-long gun battle that left three rebels dead.
Another clash happened on the same day between the 66th Infantry Battalion encountered NPA guerillas in Pantukan, Compostela Valley. Two rebels were killed and two soldiers were wounded during the firefight.
Some senators have asked the Duterte administration to defer the conduct of negotiations with the communists, saying the rebels do not seem to have control over their ground troops.