From Rappler (Jun 24):
1 month of Marawi clashes: Death toll now at 375
Presidential Spokesperson Ernesto Abella says 69 government troops, 280 terrorists, and 26 civilians have been killed in Marawi City since clashes erupted on May 23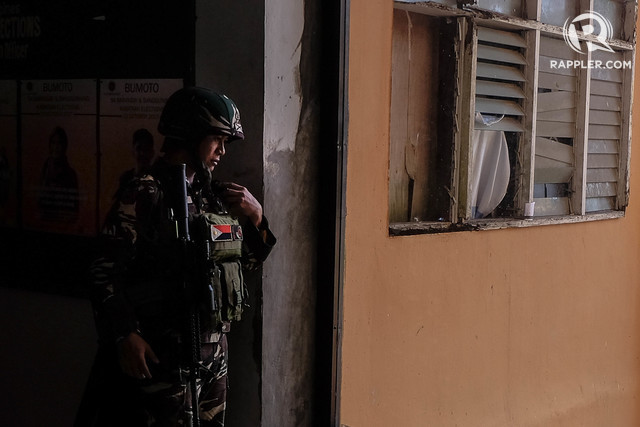 The death toll from
month-long clashes
between government troops and local terrorist groups in Marawi City
has risen to 375
, Presidential Spokesperson Ernesto Abella said on Friday, June 23.
During Friday's Mindanao Hour held in Davao City, Abella reported that
69 government troops and 280 terrorists have been killed in Marawi as of 6 pm Thursday, June 22. The number of civilians
killed by terrorists remained at 26.
In addition, government troops have also rescued 1,633 civilians and recovered 298 firearms from terrorists.
Abella said one significant development in Marawi is the "successful clearing" of 85 buildings, with more to follow. Government has also monitored "increasing willful and intentional arson activities" of the terrorists in various areas of the city.
But challenges remain, such as the continued use of snipers, improvised explosive devices (IEDs), and rocket-propelled grenades (RPGs) "from remaining vantage positions" and the use of combustible materials and other incendiary devices.
Terrorists, according to Abella, continue to use non-combatant civilians as shields, and situate themselves in mosques.
As the fighting continues, Abella said the focus of military operations in Marawi will be on the following:
continued clearing of remaining armed terrorists
continued rescue of trapped residents, including those held as hostages
continued recovery of civilian casualties or cadavers
assisting local government units (LGUs), civil society organizations, and non-governmental organizations on relief operations
preparing or assisting LGUs for the rehabilitation, reconstruction, rebuilding phase as soon as the rebellion is quelled
President Rodrigo Duterte
declared martial law
in Mindanao on May 23, following clashes between the military and the Maute Group in Marawi City. (READ:
TIMELINE: Marawi clashes prompt martial law in all of Mindanao
)
The provincial government of Lanao del Sur is
already finalizing plans about establishing tent cities
for internally displaced Marawi residents who may return once the armed conflict is over.
http://www.rappler.com/nation/173823-one-month-marawi-clashes-death-toll