From the Philippine Star (Jun 24):
Navy deploys newest war vessel near Marawi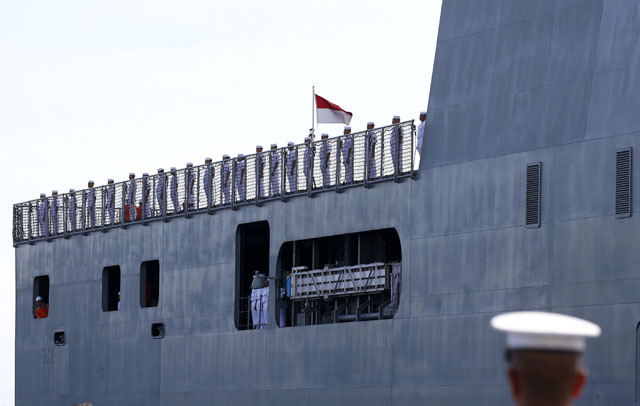 An Indonesian flag flutters from the rear deck of the new Philippine Navy ship named BRP Davao del Sur as it docks at Manila's South Harbor Wednesday, May 10, 2017 in Manila, Philippines. The Philippine Navy welcomed Wednesday the second Indonesian-made amphibious landing dock as part of the military's modernization program. AP/Bullit Marquez
The Philippine Navy is deploying its newest landing dock BRP Davao del Sur (LD602) in Cotabato to be used as instrument by military forces in battling the Islamic State-inspired militants in Marawi City, an official said here.
The 404-footer supply and operation ship, constructed by the Indonesian state-owned shipbuilder PT PAL, made a two-day port call in the city. It will also deliver military logistics, supplies for soldiers and relief goods for the displaced civilians of Marawi.
Rear Admiral Rene Medina, commander of Naval Force Western Mindanao (NFWM), visited the ship docked at the Zamboanga port. He said its presence will help secure the coastal water in the Cotabato area while it serves as staging pad of the Augusta Westland attack helicopters.
"Its presence will boost the security in the area," Medina said.
There were reports that members of the Maute and Abu Sayyaf groups who led the Marawi siege may slip and find its way out of the besieged city, by using the seawaters of Cotabato towards the island provinces.
BRP Davao del Sur had its open house for two days, showing its capability as a landing platform dock. It also gave the opportunity for residents to have a guided tour of the ship.
Captain Richard Gonzaga, BRP Davao del Sur commanding officer, said the ship has its own medical facility where it can perform treatment for wounded soldiers.
Gonzaga said the Naval Reserve Center and NFWM also conducted recruitment activities aboard ship for interested individuals who wish to join the roster of the Philippine Navy.
Gonzaga said the presence if the LD602 was aimed at promoting peace, developing friendly relations and bringing the Philippine Navy and the Armed Forces of the Philippines closer to the hearts of the people here and Filipinos in general.
BRP Davao del Sur, commissioned in the service of the Philippine Navy last May 31, was the second landing dock after BRP Tarlac (LD-601) was delivered and commissioned on the same month last year.