From ABS-CBN (May 6):
Ejercito wants to reopen 2013 chopper deal probe after Tanay crash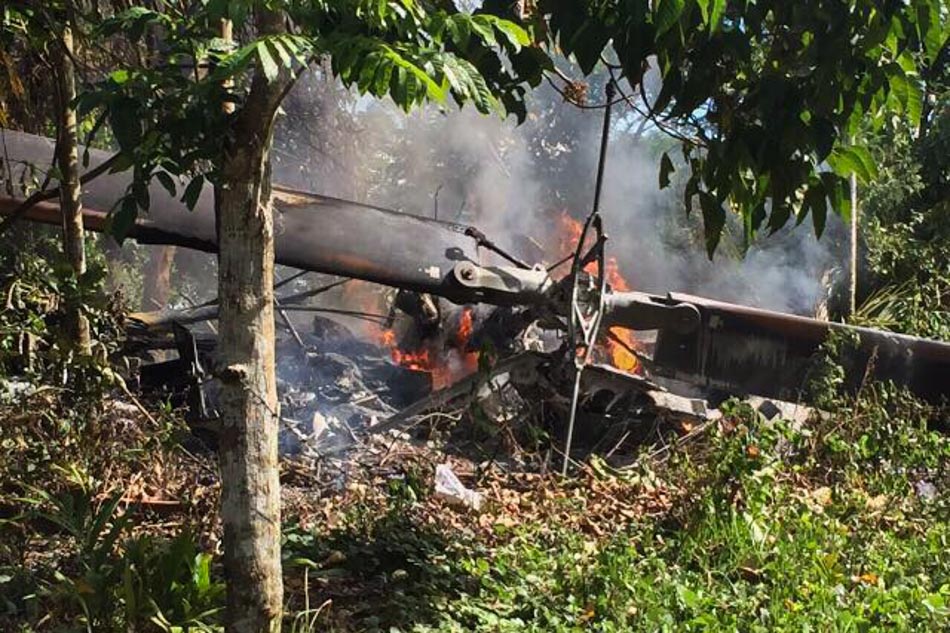 Photo shows a burning UH-1D helicopter after it crashed at Sitio Hilltop in Barangay Sampaloc in Tanay, Rizal on Thursday afternoon. Three members of the Philippine Air Force were killed, while one was injured while participating in an Air-to-Ground and disaster rescue operations (AGOS) training, according to 1LT. Xy-on Meneses of the 2nd Infantry Battalion. Courtesy of the Philippine Army 2nd Infantry Division
Helicopter second to crash from refurbished fleet acquired in questionable deal
Sen. Joseph Victor Ejercito has vowed to investigate the helicopter
crash
that killed three airmen in Tanay, Rizal Thursday afternoon as he bared that the ill-fated chopper was from a second-hand fleet acquired in a shady deal earlier investigated by the Senate.
The lawmaker said he would seek to reopen the Senate inquiry into the Department of Defense's (DND) allegedly anomalous P1.2-billion acquisition of 21 refurbished combat helicopters in 2013, which purportedly had defective units.
The investigation, initiated in 2015 after a whistleblower came out with graft allegations, had fizzled, Ejercito told ABS-CBN News.
"I am saddened and frustrated by the recent news of an AFP (Armed Forces of the Philippines) UH-1D chopper that crashed in Tanay, which resulted in the death of its pilot and two crew members," said Ejercito.
"I will again file a resolution to re-open the investigation for this anomalous chopper deal to make sure that our military will not be forced to use unsafe ancient aircraft," he said.
He said the chopper was the second to crash from a fleet of second-hand helicopters that the Philippines bought under an allegedly graft-ridden deal.
The first crashed in November 2015, just months after the Senate blue ribbon committee initiated an inquiry into the deal.
"Unsurprisingly, the chopper that recently crashed was part of the anomalous deal that we investigated! These 50-year old choppers that the DND purchased are older than our retiring military personnel!," Ejercito said.
It was the senator who also initiated the 2015 investigation, where Rhodora Alvarez, an agent for Rice Aircraft Services Inc. (RASI) and Eagle Copters, the American-Canadian joint venture that landed the deal, accused top defense officials of receiving kickbacks.
Then Defense Secretary Voltaire Gazmin canceled the contract when the anomaly was bared and amid delivery delays. The department, however, still received at least seven of 21 choppers.
He
denied
the whistleblower's allegations.
In March last year, Alvarez
filed
before the Office of the Ombudsman complaints of plunder, graft, malversation of public funds, violation of the procurement law, and violation of the revised Armed Forces of the Philippines (AFP) Modernization Program against Gazmin and 38 others.
"Deaths resulting from accidents which can actually be prevented by the level of technological advancement is unforgivable. The culprit is no one else but those who benefit from shadowy deals. Corruption kills," he said.
http://news.abs-cbn.com/news/05/06/17/ejercito-wants-to-reopen-2013-chopper-deal-probe-after-tanay-crash