From the Mindanao Examiner (Aug 18):
Army honors 2 soldiers killed in anti-drug ops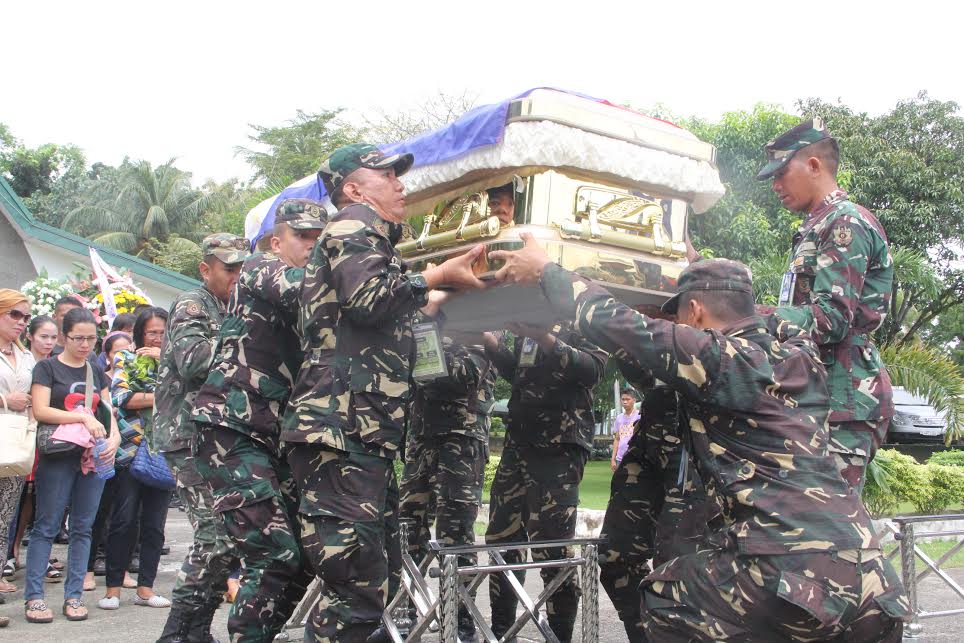 Troops honor fallen soldiers in Maguindanao province on Thursday, Augusy 18, 2016 in this photo released by the 6th Infantry Division to the regional newspaper Mindanao Examiner.
The Philippine Army's 6

th

Infantry Division on Thursday honored two soldiers who were slain during an anti-drug operation in North Cotabato's Midsayap town.
Captain Jo-ann Petinglay, an army spokeswoman

, said the soldiers – Corporal Josel P. Miravalles and Private First Class Jay Pee Z. Duran – were killed on August 14 while fighting the group of notorious drug lord Madrox Masgal, who is also wanted by authorities in Central Mindanao.
She said the soldiers were part of operating team, composed of 62

nd

Reconnaissance Company, Philippine Public Safety College, Philippine Drug Enforcement Agency, and Naval Intelligence Security Group that engaged with Masgal's group at the boundaries of Kadilingan and Nabalawag villages. Petinglay said one NISG member was also killed and 8 soldiers from the 62

nd

Reconnaissance Company were wounded in the fierce fire fight.
Major General Edmundo Pangilinan, the division commander, handed over a Posthumous Military Merit Medal to the families of the late soldiers for their acts of heroism
. "These two men did not only die fighting terrorists in
Central Mindanao
but they also risk their lives fighting the illegal drugs in the country," he said.
http://mindanaoexaminer.com/army-honors-2-soldiers-killed-in-anti-drug-ops/