From Rappler (Aug 18):
New rescue ship arrives in PH from Japan
The Philippine Coast Guard says 9 more MRRVs are being built for its fleet, to be delivered from December 2016 to August 2018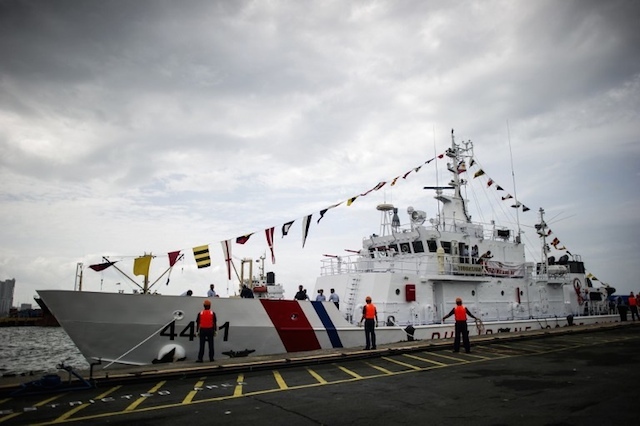 NEW SHIP. The Philippine Coast Guard'€™s first ever multi-role response vessel, the BRP Tubbataha, arrives at the port in Manila on August 18, 2016. Photo by Noel Celis/AFP
The Philippine Coast Guard on Thursday, August 18, welcomed the arrival of its brand new multi-role vessel from Japan which will augment its search and rescue assets, as well as its patrols in the West Philippine Sea (South China Sea).
Upon its arrival at the Port of Manila, it was inspected by the Bureau of Customs (BOC), Bureau of Immigration (BOI), and Bureau of Quarantine (BOQ).
The PCG said the vessel is equipped with special features for search and rescue missions, and maritime security and law enforcement operations such fire monitors, night vision camera, radio direction finder, and a work boat.
PCG spokesman Commander Armand Balilo said 9 more brand-new MRRVs from Japan will be built for the PCG. S

ucceeding vessels will be delivered quarterly beginning December 2016, until the final MRRV arrives in August 2018.
The MRRVs will be deployed to various PCG districts across the Philippines, including Manila, La Union, and Puerto Princesa.
The vessels will have a standard cruising speed of 16 knots (30 km/h), and a range of 1,500 nautical miles (2,778 kilometers).
The MSCIP is an Official Development Assistance (ODA) project, via a tied loan from the
Japan International Cooperation Agency (JICA)
.
It is the first of 10 Philippine coast guard ships being built in Japan, supported by Japanese aid money, as the former World War II foes seek to boost defense ties in the face of growing Chinese aggression in the South China Sea.
Japan – the Philippines' top source of development aid – said this month it would give Manila two additional patrol vessels, and that it was discussing the possible lease of surveillance aircraft.
http://www.rappler.com/nation/143481-japan-rescue-ship-arrives-ph