From the Jakarta Post (Aug 19):
TNI chief urges employers not to pay ransoms to Abu Sayyaf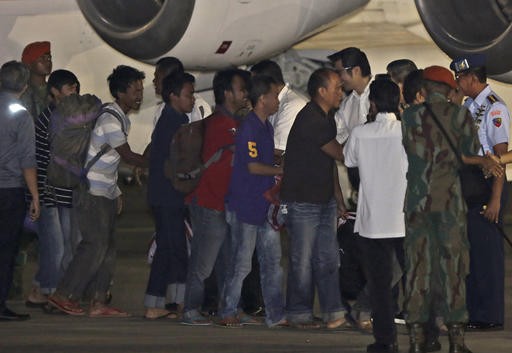 Ten Indonesian tugboat crewmen who were taken hostage by Abu Sayyaf militants in the Philippines are greeted by officials upon arrival at Halim Perdanakusuma Air Base in Jakarta on May 1. (AP/Dita Alangkara)
The government urged the employers of Indonesian sailors held captive by the Abu Sayyaf group not to pay ransoms demanded by the militants in exchange for the hostages, Indonesian Military (TNI) commander Gen. Gatot Nurmantyo said on Thursday.
The companies operating the vessels must support the government's stance, which is to strictly refuse giving money to the militant group, he said.
"If the government insists on not paying, then [none of us] should pay because as a nation we could be exploited,"
Gatot said in a statement on Thursday.
He asserted that Indonesia and the Philippine government had a robust commitment to put an end to criminal acts in the Philippine's Sulu waters, adding that the operation to secure the release of the remaining nine hostages would continue indefinitely.
Furthermore, Gatot believed the Philippine government under President Rodrigo Duterte was committed to ending the movement of Abu Sayyaf militants operating in the southern part of the Philippines.
http://www.thejakartapost.com/news/2016/08/19/tni-chief-urges-employers-not-to-pay-ransoms-to-abu-sayyaf.html